In the age of digital connectivity, finding and sharing information has become an integral part of our daily lives. Whether in research, entertainment, or staying updated with the latest trends, the need to locate specific content efficiently has never been greater. This is where OnlyFinder is a powerful tool designed to simplify finding and accessing a wide range of digital content. This article will help you with how to use OnlyFinder.

What is OnlyFinder?
Various websites use OnlyFans third-party search engines, but not all are worthwhile. OnlyFinder is helpful because OnlyFans doesn't offer search engine functionality. Finding the content producer you're looking for is accessible via a straightforward internal structure. 
To locate the content producer you've looked for, OnlyFinder searches thousands of accounts. In just a few minutes, everything happens. Because it enables you to look for a content producer by location and name, it varies from other search engine websites. The other categories are also readily available for you to browse.
Few OnlyFans third-party search engine websites offer this because it complicates things and can cause their website to slow down. You receive precise results when you search for someone on OnlyFinder. The time you usually spend scrolling through millions of profiles is also saved.
Benefits of Using OnlyFinder
OnlyFinder is a website that allows you to find Onlyfans users by location, keyword, genre, location, and more. Here are some of the benefits of using OnlyFinder:
Find Creators Near You or Worldwide
OnlyFinder lets you filter by distance to see who is available in your area or any other location. This can help you connect with local creators or explore different cultures and lifestyles.
Search By Keyword or Genre
OnlyFinder has an extensive database of over 4 million profiles covering various niches and categories. You can type in any keyword or genre you want, such as fitness, cosplay, gaming, etc., and see the relevant results. This can help you find specific content that matches your taste and mood.
Discover New and Trending Creators
OnlyFinder updates its database regularly, so you can always see the latest and most popular creators on the platforms. You can also sort by followers, likes, posts, and earnings, to see who is the most successful and influential in their field. This can help you discover new and exciting content that you might not have seen before.
Support Your Favorite Creators
OnlyFinder provides links to the creators' profiles, so you can easily access their content and subscribe to their OnlyFans. You can show your appreciation and support for the creators you like and help them grow their fanbase.
How Does OnlyFinder Work?
OnlyFinder uses web scraping and crawling techniques to collect data from various sources, such as the platforms' websites, social media accounts, and third-party databases. 
It stores the data in a cloud-based database, updated regularly to ensure accuracy and freshness. The database contains over 4 million profiles, covering various niches and categories. The database also stores metadata used for indexing and searching, such as keywords, genres, locations, and more. The platform uses natural language processing (NLP) and machine learning (ML) techniques to analyze the data and provide relevant results.
OnlyFinder uses NLP to extract keywords and genres from the profiles' bios and posts and to generate summaries and descriptions for each profile. It also uses NLP to understand the user's query and match it with the appropriate keywords and genres in the database. It uses ML to rank the results based on distance, followers, likes, posts, and earnings to recommend new and trending creators based on the user's preferences and behavior.
OnlyFinder provides a user-friendly interface allowing users to search, sort, filter, and view the results. The user can also access the creators' profiles to see their social media links, subscription prices, free trial offers, and more. Users can also follow them on Twitter or other social media platforms to get updates and sneak peeks of their content.
How to Use OnlyFinder?
You can get started with OnlyFinder in a few simple steps.
Step 1: Visit the OnlyFinder website. You will see a search bar where you can type in any keyword or genre you want, such as fitness, cosplay, gaming, etc. You can also use the drop-down menu to select a platform, i.e., OnlyFans.
Step 2: Click on the search button or press enter. You will see a list of results that match your query. Each result shows the creator's name, profile picture, bio, location, and platform. You can also see their number of followers, likes, posts, and earnings.
Step 3: You can sort the results by distance, followers, likes, posts, or earnings. You can also filter the results by gender, age range, ethnicity, body type, hair color, eye color, and more. You can use the sliders and checkboxes to adjust your preferences.
Step 4: If you find a creator that interests you, click on their name or profile picture to see more details. You will see their full profile page, where you can see their social media links, subscription price, free trial offer, and more. You can also see some of their recent posts and previews of their content.
Step 5: If you want to access their content and subscribe to their platform, click the link "Visit Profile." This will take you to their OnlyFans page, where you can sign up or log in and pay for their subscription. You can also follow them on Twitter or other social media platforms to get updates and sneak peeks of their content.
How to Stay Ethical and Responsible while Using OnlyFinder?
As you navigate the digital landscape using OnlyFinder, it's crucial to maintain ethical and responsible behavior:
Respect Privacy
When accessing content, be mindful of the privacy settings and intentions of the content creators. Avoid sharing or using content that may infringe upon individuals' privacy.
Cite and Attribute
If you use the content found through OnlyFinder in your projects or posts, always provide proper attribution to the original creators and respect copyright guidelines.
Verify Information
Like any online source, verify the accuracy and credibility of the content you find through OnlyFinder before using it for research or sharing.
Abide by Platform Rules
When accessing content from different platforms, adhere to their terms of use and community guidelines. Avoid any actions that could result in violations or account suspension.
Conclusion
Whether looking for something specific or browsing for fun, OnlyFinder can help you discover amazing creators that will satisfy your needs and desires on OnlyFans. However, you should also be aware of the potential risks and problems arising from using OnlyFinder and take measures to avoid them. By doing so, you can learn how to use OnlyFinder and enjoy the benefits without compromising your privacy and security.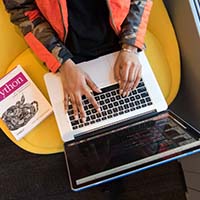 Nancy is a journalist with passion for technology. In her 12 years of experience, she has crafted some of the most detailed pieces that describe the importance, benefits, and progress happening in the technology world.