"Do more with less" – That is the objective of many organizations. But we are stuck at a point realizing that productivity is physical.
Do you ever finish like your workday with the feeling that you were not able to accomplish all the goals from the to-do list?
Consider you have decided to complete five tasks today but was able to finish only three of them. But you have completed every detail of the three objectives of the day. Now how do you measure your productivity? What will be your efficiency rate?
Your productivity is phenomenal and the efficiency is on the right track. Even though you have completed just three objectives of the day you have completed them with no flaws. But many of us have misunderstood the concept of increasing productivity. We had been always appreciating people who work faster rather spotlighting the ones who work smarter.
What solution do we have to reorganize this concept of productivity? Here we go!
We understand that being productive can be very difficult at work. But unfortunately, it is painful and hard to know where to start. Managing time is the key to increasing productivity at work. Be it a millennial entrepreneur or the executive with work experience of 30 years, both have the same 12-15 hours a day. But the efficiency depends upon who works the smartest and manages time.
Secondly, we measure the productivity from the ground-level of the organization. Well! The task rolls out from the top. Only the changes from the higher altitude will create an impact in the entire organization. It is vital for the administration to imply changes and draw the best route for everyone in the company to reach the right destination at the same time.
Here is the post that will walk you through the simple, effective strategies that can improve productivity at work.
How to improve your productivity at work?

Find "crucial" of the day
Crucial tasks are "Objective of the day." They need to be absolutely accomplished during the day. That's how you are going to move forward. Create spreadsheets or to-do list and keep only the priority tasks of the day at the top. It will help you find the most important task every day.
By managing tasks, people have widely misunderstood that being productive at work means multitasking. But tempting to take more responsibilities at once may fail you entirely. According to Earl K Miller, a neuroscience professor, "Multitasking is impossible.
Entirely not human". We are just fooling ourselves that we can manage everything, such as phone calls, presentations, meetings, work, etc. Hence it is essential for anyone to prepare crucial lists on every day.
It is also found that only 17% of the people can estimate their passage time for the job. For every crucial task you do, you should know what your rescue time is if you are missing on time.
Two-minute rule to follow

There are numerous companies which teach their employees with the two-minute rule. The main objective of the Two-minute rule is to establish a goal or habit within two minutes. It does not mean you can complete the work in two minutes. But in the first 120 seconds, you will be able to figure out instinctively on how to accomplish those goals. However, there are many perspectives for the two-minute rule that needs to be following.
Two-minute rule is simple to follow but a great tactic to improve productivity at work. According to Steve Olenski, and entrepreneur, if you start completing all your two-minute works, you can save more time. It is always necessary to find small goals that need to be accomplished.
The instinctive thought process is absolutely required, especially when you are working on the crucial goals of the day. The two-minute schedule will allow you to fill the small windows of the actual task. All you need to do is schedule the time to get your to-do list for the entire small tasks under your main goals of the day. Do them!
Take breaks
This might sound fascinating. We all think what the breaks have got to do with the productivity in work. The studies show that regular breaks will help in boosting the mood. It helps in focusing on the objectives carefully. By breaks, we are not stressing on the snacking or drinking coffee, but literal breaks where you move around the office, chit-chat, make someone laugh, etc.
It sounds counterintuitive, but always breaks can make you do better. Take short breaks instead of long breaks. Allow yourself on appreciating when you have completed the task. Now, many corporate companies have deployed some ergonomic gym equipment which let you relax and make you comfortable.

Also, from the organization level, people push the employees to take frequent short breaks to maintain a constant level of performance. Also, it is proven that without any break leads the performance declines constantly in the office atmosphere.
Huddles may help
Talking about modern offices, huddles play a major role in improving work productivity. By huddles, we do not mean meeting. Meetings struck down your time, and they cannot be the best idea ever. But huddles help you keep motivated for the work.
If you are in the admin position, try to have an organized huddle to make them understand the crucial tasks of the day. If you do not have time for this, get on their office desk, sit and talk to them individually. In this way, you are mutually benefited. By this, you will get to know the direction of the employees and also understand the difficulties and challenges faced by the employees.
Reputed organizations have already implemented this as a strategy development to talk down with their employees on how best they can accomplish the goals. Everyone knows that they are on the same page and let the people know when their assistance is needed.
Learn to say 'No'
There can be many mostly inevitable disruptions starting from the co-workers to assist the administration with your inputs for multiple projects. It is always easy to say "Yes", but you need to practice hard to say "No."For you to leverage your tasks efficiently the primary rule is to practice saying no with zero regrets.
Saying no may sound more difficult than it is done, but there are numerous ways in which you can get through this. To improve productivity at work, it is necessary to find the right things that you can work on it. Push forward or deny other coherent activities where your support or assistance is not required.
You can always find some time in your breaks that can be used for these activities. Provide inputs and help the mates during these free hours but never indulge completely. It may not just ruin your goals, but the productivity of the entire team will be at stake.
What's the solution?
The key points mentioned above are applicable universally, and there are certain things which you need to do it your way. Always customize the solutions and be easy to overcome. If you are procrastinated by afternoons, then reboot your energy level by appreciating whatever you have done. Moving forward is will powers and regrets are complete trash. If you wanted to survive ethically in the market by contributing to the highest level of productivity to the organization, then all you need to do is play the simple trick. Follow instincts carefully, and that's how you improve productivity at work.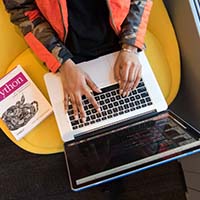 Nancy is a journalist with passion for technology. In her 12 years of experience, she has crafted some of the most detailed pieces that describe the importance, benefits, and progress happening in the technology world.