With the advent of 4K monitors and TVs and the arrival on the market of ever faster SSDs, the need to use high-performance connection interfaces capable of distributing content adequately will be increasingly felt. On the other hand, notebooks are becoming more and more compact and light, often sacrificing the connectivity aspect.
Ports and cables available today do not allow us to keep pace with the ever increasing demand for bandwidth.
Thunderbolt 3 changes everything and revolutionizes the scenario. The interface now uses – in its third version – the new USB Type C connector, thus allowing the connection of any kind of device.
Thunderbolt was devised in 2011 by Intel in collaboration with Apple. At the time, the USB 3.0 interface could transfer data up to 5 Gbps (or 640 MB / s), while the first generation of Thunderbolt already offered double the bandwidth (10 Gbps).
Thunderbolt, unlike USB, allows you to transfer multiple types of data: it is not limited, therefore, only to a serial transmission of data to storage media and hardware peripherals but allows you to transfer video signals to monitors and displays in general.

The Thunderbolt interface still allows you to activate a daisy chain connection: this means that you can connect, for example, a data storage unit to the computer and then connect a display to it. Each device will work as expected.
Originally intended to extend the possibilities of USB 3.0, Thunderbolt used a mini DisplayPort connector that Apple immediately plugged into its MacBook Pros in 2011.
Also, due to the production costs, the Thunderbolt connector's use always remained a "niche" choice, and few systems embraced it.
What is the USB Type-C connector?
USB Type-C is the new connector designed to replace the ubiquitous Micro USB found, for example, on every Android smartphone and many other devices.
Over time, the goal is to replace the hugely popular USB Type-A connector, known by all as the USB connector par excellence.
The USB Type-C connector is compact and small in size, but the main prerogative is that it is now reversible: therefore, there is no longer a "direction" for inserting the USB cable.
Furthermore, USB Type-C eventually allows you to power the connected devices by transferring more energy: it goes from 2.5 W of USB 2.0 and 4.5 W of USB 3.0 to 7.5 and 15 W of USB Type-C. However, these are "default" values: where necessary, USB Type-C can transfer up to 100W, allowing you to power and charge notebooks too.
Thanks to USB Type-C, smartphones, tablets, and other mobile devices can recharge very quickly, and the same cable used to power a notebook can be used to connect many devices.
Theoretically, it will be possible to recharge your smartphone by connecting it to a tablet, notebook, or another mobile device: thus, you can immediately restart your device if the battery life is not sufficient for it to be switched on.
Thunderbolt 3 plus USB Type-C connector: the dawn of a new era
Instead of the initially chosen mini DisplayPort connector, Thunderbolt 3 uses USB Type-C. This is an epochal choice and certainly a good one for several reasons:

– Thunderbolt 3 "frees itself" from the niche sector it was initially tied to. Apple is the only company to have supported the Thunderbolt interface. Thanks to the use of the USB Type-C connector, however, things are now destined to change.
Thunderbolt began showing off today in multiple notebooks and ultrabooks; consequently, a marked increase in the products that support it implies an increase in incompatible peripherals.
– A more widespread deployment of Thunderbolt 3 is also good news for USB Type-C. The USB Type-C cables ultimately allow you to transfer more power and are equipped with a reversible connector. Thanks to Thunderbolt, however, their potential is enormously expanded.
It must be said thatnot all USB Type-C ports are Thunderbolt 3 compatible: Hardware that doesn't use Intel Skylake processors doesn't have a Thunderbolt controller (most mobile devices don't use Intel technology).
If you connect a USB Type-C device to a Thunderbolt 3 port, it will work, but it will not be able to use the Thunderbolt interface features.
Similarly, a Thunderbolt 3 peripheral connected to a USB Type-C port will work but will not take advantage of the Thunderbolt features.
Support for Thunderbolt 3 was built into the Intel Skylake chipsets that saw the light of day in the latter part of 2015.
The features of Thunderbolt 3
Thunderbolt 3 allows you to do an infinite number of operations with a single cable: extremely versatile, the interface allows the connection of displays, storage units, and much more.

Since Thunderbolt 3 supports the latest DisplayPort specifications, a single cable can be used to drive two 4K displays at 60Hz (4K monitors feature twice the resolution of 1080p "Full HD").
Unless "daisy-chaining" is used, the cables will then need to be separated to reach the two monitors, but only one Thunderbolt cable will be connected to the computer.
The Thunderbolt 3 interface is also unbeatable in terms of data transfer speed. You can even evaluate the purchase of an external case to the computer ( like this one; not yet available on Amazon), which houses two hard drives or SSD units and allows you to activate a RAID configuration.


Thanks to the Thunderbolt 3 connection, you can achieve data transfer speeds of up to 785 MB / s by simultaneously streaming content to connected 4K monitors.
In case you want to focus on storage needs, you can get data transfers up to 5 GB / s; 8 times better performance than USB 3.0 and 4 times better than USB 3.1.
At this point, the bottleneck may lie in the performance of the disk drives and not in the cable and interface itself.
Improve the performance of your PC graphics card with an external box
Products such as Razer Core highlight the possibilities offered by Thunderbolt 3.


Razer Core is an eGFX box that is an external device that extends the capabilities in terms of graphics processing of the system in use. The connection is made via the Thunderbolt 3 interface: a compact and light notebook can immediately transform itself into a powerful 3D rendering and video game machine.
Although the bandwidth offered by Thunderbolt 3 is nowhere near comparable with that which distinguishes the PCIe interface, devices like the Razer Core can dramatically increase the performance of, for example, any notebook.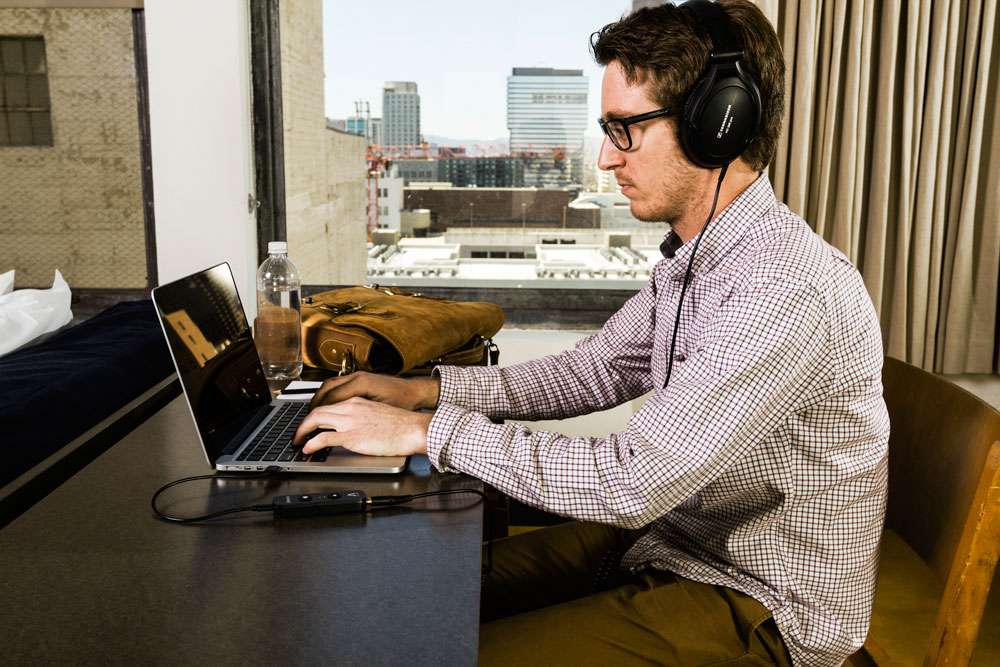 I'm Mr.Love . I'm admin of Techsmartest.com