An increasingly popular option for organizing and streaming video material across many devices is Kodi, an open-source media center program. The ability to customize Kodi's interface with a variety of skins is one of its most notable features. Users may alter the media center's design using Kodi skins, which improves the user experience overall and adds a dash of aesthetic flare. We'll look at some of the best Kodi skins in this post, each of which has its aesthetics and features that can be customized to suit a variety of tastes.
20 Best Kodi Skins
With the following best Kodi skins, you can transform your media center into a visually stunning and highly functional entertainment hub.
Aeon Tajo
Aeon Tajo is characterized by its elegant design and responsive interface. It features a horizontal ribbon-style main menu that provides clear visibility of the main and sub-categories. Users can customize the skin with background images, add-ons, and various options such as Home layout, Media Views, Color options, and more. With its clean user interface and extensive customization capabilities, Aeon Tajo is highly recommended.

AppTV
If you're a fan of the Apple ecosystem, AppTV offers a skin that closely resembles the AppleTV interface. Its straightforward layout allows for quick familiarization. The main menu includes categories like Videos, Movies, TV Shows, Music, Settings, Add-ons, and Quit. You can arrange the categories horizontally or vertically and customize aspects such as Home Menu, Shelf background, and Widgets. AppTV is a lightweight skin that provides a seamless experience, even on low-spec devices.
Titan Bingie
Titan Bingie introduces a Netflix-like user interface with stunning artwork and movie information. This skin allows customization of the home screen with a spotlight, pop-up window, and trailer autoplay. Based on the popular Titan skin, it offers solid performance and recommendations on the home screen. For users seeking a fresh and exciting way to explore Kodi, Titan Bingie is highly recommended.
Aeon Nox: SiLVO
Aeon Nox: SiLVO is a redesigned version of the popular Aeon Nox skin, incorporating modern and clean elements. It features a convenient search bar, weather widget, and various sub-menus on the home screen. Aeon Nox: SiLVO retains the classic Aeon look while providing an updated and consistent performance. This skin is a great choice for users who appreciate the nostalgic Aeon aesthetic.
Arctic: Zephyr – Reloaded
Arctic: Zephyr – Reloaded is the dark-themed version of the original Arctic Zephyr skin. It offers a sleek and minimalist design that can be configured to blur the background according to your preference. Although primarily designed for remote control users, it can still be navigated with a mouse. Arctic: Zephyr – Reloaded maintains its reputation as one of the sleekest skins available.

Mimic-LR
Mimic-LR builds upon the vanilla Kodi skin by adding more flair to its Estuary-style vertical menu. It features a carbon background and a customizable dark fuchsia highlight. Users can also choose to have the menu displayed horizontally. Mimic-LR provides a refreshed and distinctive look for users seeking a unique aesthetic.
Aura
Aura is a popular skin used in many Kodi builds. It offers a visually appealing tile-based design that combines style and functionality. The home menu items are placed horizontally at the top, while related categories and widgets are displayed in a tiled format. With a sleek and uncluttered interface, Aura provides a user-friendly experience and offers numerous customization options.
Bello
Bello is a minimal Kodi skin that provides a user-friendly interface while being easy on system resources. It is available as Bello 7 for Kodi 18 Leia and Bello 8 for Kodi 19 Matrix. While more suitable for touch and remote-controlled devices, such as FireStick, Bello offers a clean and efficient media center experience.
Eminence 2 Mod
Eminence 2 Mod is a modified version of the original Eminence Kodi skin created by Alanon. Despite being abandoned by its original developer, Eminence had gained a loyal following, and this modified version brings it back to life for the Leia build. The skin retains impressive vertical menus and offers movie banners and synopses for local media content. If you're transitioning from the default Estuary skin, you'll appreciate the distinct and visually appealing look of Eminence 2 Mod.

Embuary
Designed specifically for Emby users who utilize Kodi as a client-media app, Embuary closely resembles the web UI of Emby. This skin provides a sleek and modern design with a Netflix-like interface. It offers movie banners, synopses, IMDb, and Rotten Tomatoes ratings on the dashboard for all media content. Additionally, Embuary supports on-screen lyrics while playing music on Kodi. Even if you don't use Emby, you can still enjoy this visually appealing skin.
Pellucid
Pellucid stands out among Kodi skins available in the official repository. If you don't like the default pink, you may pick from a variety of other hues. Its backdrops vary occasionally. Although there aren't many settings available, you may modify the home menu. Firestick users will appreciate the "Low CPU power mode" feature, although its exact function is not explicitly stated.
fTV
fTV aims to replicate the interface of Amazon Fire TV within Kodi, making it a familiar choice for Firestick or similar device users. While it may not be the most visually exciting skin, it provides a comfortable and recognizable interface for those accustomed to Fire TV. However, Ftv is not particularly suited for users without remote control, as it displays a large red popup when attempting to use a mouse.
Box
Box is a visually appealing skin for Kodi 18. It features a panel-based design with an organized layout, giving it a professional and futuristic look. One category at the moment, such as Live TV, Movies, and TV Shows, is featured on the home screen (which can be customized). Additionally, the main panel provides quick access to utility features like Add-ons, Settings, Pictures, Favorites, and Customize. While you can't add image backgrounds, you have a wide color palette to choose from. Box offers extensive customization options, including displaying Now Playing, playing video in the background, and changing menu labels.
Confluence
Confluence has stood the test of time and remains one of the best Kodi skins available. It strikes a balance between simplicity and flashiness, making it an appealing choice for users seeking middle-ground skin. The home menu is positioned closer to the center, spanning from left to right, with important categories like Videos, Music, Add-ons, and System readily accessible. While the Kodi 18 and 19 versions lack a background, you can select a new background image from local storage. Confluence allows customization, such as adding or removing default home menu categories and incorporating add-on shortcuts for quick access.
Arctic Zephyr 2
Arctic Zephyr 2 is a lightweight and elegantly designed Kodi skin with a minimalistic approach. Its clean interface features rounded menus and submenus, resembling the Aura skin, as both were developed by jurialmunkey. While Aura and Arctic Zephyr share similar appearances, Arctic Zephyr's performance sets it apart. It performs well even on low-end devices or Raspberry Pi systems, providing a modern design and essential features on a clean home screen.

Atlas
Similar to Titan, Atlas was once a highly popular Kodi skin and continues to receive updates for the latest Kodi versions. This revamped skin boasts a modern appearance with a top menu bar and a lightly themed design pattern. Unlike other skins, Atlas offers a drop-down menu on the Settings page, which many users prefer over a categorized menu. The minimalistic home screen resembles the UI of Amazon Prime Video, featuring large banners for movies and a slideshow of media content. The skin is responsive and optimized, even on low-end devices, making it a great choice for users who desire a minimalist skin alternative to Aura.
Andromeda
Andromeda is a simple and lightweight Kodi skin that covers all the essential features you would expect. Its top-bar menu presents a slideshow of movies, music, and other media content on the home screen. Furthermore, it integrates IMDb, allowing for efficient sorting of your local library. Overall, Andromeda performs well without lag or major issues, making it a compelling option for those looking to switch from the default Kodi skin.
Chroma
Chroma is a Kodi skin tailor-made for movie enthusiasts who enjoy watching films on full HD TV screens, particularly 4K TVs. This skin is designed to enhance your movie-watching experience by delivering high-definition images and fonts. Despite its impressive visuals, Chroma remains lightweight and user-friendly. Installing this skin is a breeze with the help of the add-on manager, making it a great choice for those seeking an immersive cinematic experience on their television.
Adonic
Adonic offers a lot to appreciate with its elegant design and category emblems. This skin provides essential details like ratings, duration, cast, and release year for each title, making it easier for users to find movies that align with their specific preferences. It can be challenging to discover films and TV shows that match personal tastes, but Adonic simplifies the process by offering quick access to ratings and cast information. Don't miss out on this skin, as it allows you to swiftly navigate through a vast collection of films.
Black Glass Nova
Another exceptional Kodi skin optimized for full HD TV screens is Black Glass Nova. Created by Tgx and ported from MediaPortal, this skin offers a clean and straightforward interface. While it excels on HD TV screens, it is also compatible with other devices. Black Glass Nova boasts a wide range of features, including the ability to hide movies and upload personal images. To obtain this Kodi skin, simply utilize the add-on manager. With its remarkable customization options and versatility, Black Glass Nova stands out among its competitors.

Conclusion
Your media center experience may be substantially improved by choosing the correct Kodi skin, which offers a specialized and aesthetically pleasing interface. The aforementioned skins provide a wide range of possibilities to fit your preferences, whether you like a contemporary and immersive appearance, a straightforward design, or a minimalistic approach. Experiment with different Kodi skins to find the one that resonates with your style and optimizes your media streaming journey.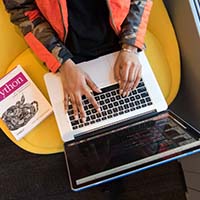 Nancy is a journalist with passion for technology. In her 12 years of experience, she has crafted some of the most detailed pieces that describe the importance, benefits, and progress happening in the technology world.