Verizon is one of the most reputable mobile operators in the United States. The company offers a vast network coverage area and has one of the fastest communication networks in the country. As a result, people consider it one of the most reliable network operators, and the company strives to maintain trust by constantly upgrading its services.
Among the several apps that Verizon offers for its customers to get a seamless network experience, Message+ is one of the featured-filled messaging apps. However, there are many differences between the regular messaging app on your device and the message+ app, which comes pre-installed on your Verizon smartphone.
In this article, we will compare Messages vs Message+. We will share all the necessary details you need to make the most out of the message plus app.
Messages vs Message+
If you wonder how these two are different and the massive debate of Messages vs Message+, let's clarify that you get the default messages app on the smartphone with limited features, and message+ comes with added functionalities that exceed your expectations.
Explaining the Messages App
The default app you get on your smartphone for texting and communication is the messages app. You can send and receive SMS, photos, videos, music, files, emoticons, and locations. Chatting is also an essential feature of messages. You can interact with multiple contacts at one time without signing up or having an account. The innovative reply feature lets you respond without typing out complete sentences.
Google messages app also has a secure interface that lets you block unwanted contacts and preview URLs. Messages also come with encryption which does not allow any interception from third parties. The messages stay between you and your communication, and no one can access them without your permission. It also supports dual-sim, and you can also carry out extended searches.
Understanding Verizon Message+
Verizon Message Plus also has the essential features of a default messaging app, but its add-on features make it stand out. For example, the app has a synchronizing capability to sync your text messages with any other device. You can also customize your chats' background, fonts, and bubble-style and schedule messages to send later. Using a tablet or smartwatch, you can also make and receive calls using message plus.
Another highly convenient feature is sending e-gift cards to your contacts through the app. You can also directly access other apps like reminders, Yelp, driving mode, and Glympse. The app also comes with BetaLab, which gives you access to the newest features that you can test and give your feedback.
What is the Difference Between Message and Message Plus on Verizon?
Messages and Message+ are essentially texting apps that let you communicate with messages on the go. Both apps come with features that users find convenient, but specific attributes give an upper hand to one over the other.
Features of Messages App
Let's take a look at the advantages offered by the messages app.
The app allows you to send multimedia messages, including audio, video, photos, voice messages, and gifs, without any trouble.
It comes with a user-friendly interface that makes it accessible to anyone without effort. Moreover, the app comes pre-installed, so you do not need to undergo any setup processes.
You can also access the messages via the web app on any other device if you don't have your phone. But for that, you need to set up the web app, and you are good to go.
Limitations of Messages App
Here are some of the disadvantages of using messages.
The app does not support international texting services. So, you can only send messages in the country and would have to rely on other apps to send international messages.
You cannot archive or save your messages. In addition, once you replace your phone, there is no way to bring the texts to the new device.
You cannot access the app on multiple devices. If you wish to use the messages simultaneously on other devices, you have no option.
The app does not allow customization of your text messages. The app comes predesigned, and the only customization you get is to change the theme from light to dark or vice versa.
You can send texts only on a cellular connection. The app does not support Wi-Fi, so you cannot make calls or send texts if you lose your cellular network connection.
Features of Verizon Message+ App
Message+ has a lot of advantages. Take a look!
You can use the app on any device. In addition, the app allows you to set it up on multiple devices, and you can access them all at once to send messages.
The app supports Wi-Fi texting. In addition, the app works on cellular connections and Wi-Fi. So, if you don't have a cellular connection, you can rely on the wireless network.
It comes with a multitude of features to enhance your chatting experience. You can do a lot with your chats, from changing backgrounds to setting up a signature.
You can send, receive, and read text messages The app lets you communicate globally, and you can message anywhere.
You can restore deleted messages for up to 90 days. So, if you accidentally deleted any of your messages, you have a 90-day frame to restore them.
You can add auto-reply messages to respond to texts instantly. In addition to default auto-reply messages, you can also customize auto-reply messages according to your choice.
If you wish to send a video, you can instantly record it using the app. It also allows you to edit the video before sending it, making it a hassle-free process. You can also send videos from the web using media search.
Using Glympse, you can share and receive locations with your contacts. You can show them your current location and set a timer to let them follow you for a fixed time. You can also request the location of your contacts.
You can access the app on multiple devices at once.
Limitations of Verizon Message+ App
Here are some of the limitations of using the message+ app.
The setting up process is complex and requires a Verizon account. One of the common complaints about the message+ app is the setup process. You have to ensure that you follow all the steps correctly to ensure a seamless experience.
You need another app to view multimedia messages. For example, message+ does not support multimedia in-app.
It constantly accesses your location, which leads to faster battery drain.
It does not offer good-quality video calls. The quality of video calls is below average and requires some significant updates.
How To Setup Verizon Message+ App?
Now that you know the difference between message and message+, you might want to download any two apps. Well, if you're going to use the Verizon Message+ app and are a bit confused about the setup process, we are here to help with a step-by-step guide. First, download the Message+ from Google Play Store and follow the instructions below.
Setting Up Message+ on Smartphone
Follow the steps below to set up Message+ on your smartphone. If you have a Verizon Android smartphone, the app comes pre-installed on the device.
Step 1: Open the Message+ app and click on Start Messaging.
Step 2: Edit your nickname if you wish to change it.
Step 3: Type in your phone number and click Send Code.
Step 4: You will receive a security code via a text message.
Step 5: Type in the code in the Message+ app to sync it with your Verizon Account.
After setting up the app with your Verizon Message+ app, you can start sending and receiving messages.
Setting Up Message+ on Tablet or Connected Device
Follow the steps below once you have installed the Message+ app from Google Play Store.
Step 1: Tap the Message+ app and accept the terms & conditions after reading it.
Step 2: Click on Start Messaging and type in your mobile number.
Step 3: Give access to Camera Permissions to scan the QR code on your device.
Step 4: Give Message+ app picture and video taking permissions by tapping Allow in the following prompt.
Step 5: You will receive a message with the QR code on your smartphone.
Step 6: Scan the QR code with your tablet or other devices.
You have set up Message+ on your tablet or another device, and now you can access the app.
Conclusion
Messages and Message+ allow users to communicate effectively with the features they offer. This article discussed Messages vs Message+ and gave insight into how you can benefit from these apps. Both apps have certain advantages and some disadvantages, so you can choose whichever suits you best with the help of the above discussion.
Although messages offer a user-friendly experience due to their no setup nature, Message+ comes with many beneficial features that make the texting experience more fun. Every app comes with certain limitations, and you can decide what suits you best with the available options.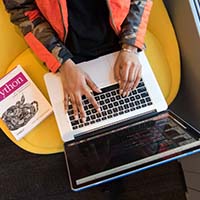 Nancy is a journalist with passion for technology. In her 12 years of experience, she has crafted some of the most detailed pieces that describe the importance, benefits, and progress happening in the technology world.