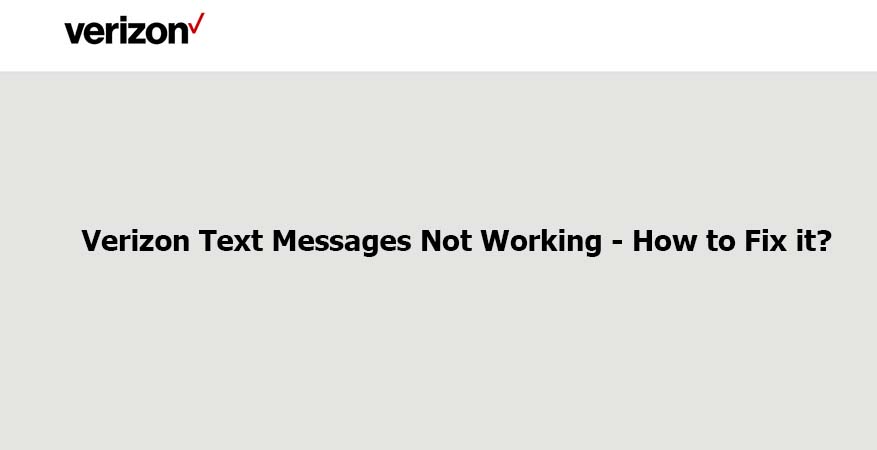 Verizon, at present, has become a top-rated network out there. One of the primary reasons behind its fame is its seamless performance. If you are a Verizon user, you might know that problem related to text messages is rare.
However, if you think that Verizon text messages are not working as you have sent a text message, but it was not delivered, or you are not receiving a message, you need to opt for some simple fixes mentioned in this article below.
Error with the software update
Among most of the reasons behind "Verizon text messages not working," the most common reason is that software is not updated properly. In some cases, it happens the OS is outdated. So, you will have to check your software update and see if any update is available. If it is so, update it as soon as possible, and see if the problem persists.
Also, if you cannot send or receive a text in Verizon after a recent OS update, it often indicates that there is some problem in your OS, and it needs to be repaired. You can make use of OS repairing software to fix the issue.
Check your mobile phone plan
You need to get in touch with Verizon to confirm the data plan of your phone. It is so because in any way, if the data plan you are using does not support receiving or sending text messages, then there is nothing that can help you to send or receive messages for the time being.
Check your signal strength
After you have cleared your doubts with Verizon about your plan, then you can move on to checking your signal strength and make sure that it is strong and sufficient. A partially strong or weak signal can eventually lead to failure in receiving and sending text messages on Verizon.
If you think that your Verizon 4G connection is not working, you need to opt for quick fixes to solve the problem.
Check the default texting app
Several third-party messaging applications are often used on mobile phones. All these apps offer attractive features that the default messaging applications fail to provide. However, the fact is that such third-party applications may prove to be incompatible with your OS version, or there might be some internal bugs that may ultimately lead to Verizon text messaging problems.
If you are having such a problem, the thing that you can do is, set your Messages as the default messaging application on your device. To do it correctly, follow the steps given below:
Step 1: Locate the "Settings" app on the smartphone, and tap on it.
Step 2: Navigate through the "Settings" menu, look for "Apps and Notifications," and click on it.
Step 3: Then, you need to choose the "Advanced" options.
Step 4: Then you will have to tap on "Default apps"
Step 5: You need to find the "SMS app" option and then click on it.
Step 6: Finally, set it as your default messaging app.
Remove and re-insert the sim
If you think it is hard to pinpoint the root problem, one of the easy fixes is removing the SIM card and then re-inserting it again. This process helps force some of the settings for resetting, which might fix your text messaging problem on Verizon.
If you possess one of the latest smartphone models, use a SIM eject pin for taking out the SIM card tray. You can find this pin in the smartphone box that was provided to you during the purchase. You may also have to cut your old sim perfectly into nano or micro sim to get bet performance.

Clear the cache and all data of your Messages app
Before you try to remove the cache and data of your message application from your smartphone, you need to take a backup of your data to avoid any loss of an important message. After you have taken the backup properly, go through the steps below:
Step 1: Locate the "Settings" app on the smartphone, and tap on it.
Step 2: Navigate through the "Settings" menu, look for "Apps and Notifications," and click on it.
Step 3: You will have to look for the "Storage and Data" option on the App info screen.
Step 4: Then, you will need to click on "Clear Storage" to clear the data, and then you will have to click on "Clear Cache" to clear the cache memory of your Message app.
Free up some space by deleting your old or useless messages
It is a must for your smartphone to have sufficient memory for new messages. If your inbox is full or nearly full, you may encounter Verizon wireless text message problems. For deleting the useless or old messages from your SMS inbox, follow the given below steps:
Step 1: Launch the "Message" application on your smartphone.
Step 2: Then tap and hold the conversation thread that you think is useless.
Step 3: After selecting it, continue tapping on other old or useless conversation threads to select them together.
Step 4: You will see a dustbin-like symbol at the top of the screen; click on it.
Step 5: Confirm on the displayed prompt for deleting the selected conversation threads and all the messages contained in those threads.
Make use of the Verizon troubleshooter
Verizon itself provides you with a troubleshooter that you can use to determine any problems with the device settings, NumberShare, and other apps that may impact the ability to send or receive text messages. This troubleshooter fixes most of the issues within 5 minutes, and in case you need further assistance, it will connect you with an agent. To do it correctly, follow the given below steps:
Step 1: Visit the official website of Verizon.
Step 2: Then, you will have to look for the troubleshooter and click on it.
Step 3: Then, you need to click on "Select a device."
Step 4: Then, it will display all the device brands that Verizon supports. And from the list, you need to choose your smartphone brand.
Step 5: Then, a list of model numbers will be shown to you from where you will have to choose your smartphone model.
Step 6: It will show you a list of quick fixes for common device problems. And from the list, you will have to select your issue.
Step 7: Then, it will ask you a few questions, and based on your answer, it will provide you with a solution that you need to follow.
Conclusion
Sending and receiving text messages has become very important in our regular lives. For many vital purposes like OTP, confirmation, and communication, the SMS service is widely used. Thus, it is very frustrating to encounter an error with messaging applications like Verizon. Also, sometimes it becomes difficult to understand unless the recipient informs us. However, Verizon is here to stay, and its community is always there to provide optimum help.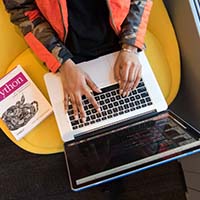 Nancy is a journalist with passion for technology. In her 12 years of experience, she has crafted some of the most detailed pieces that describe the importance, benefits, and progress happening in the technology world.