For avid baseball fans looking to enjoy live MLB games on their media centers, the MLB TV Kodi addon is a game-changer. Cord-cutters can enjoy a flawless streaming experience with the help of Kodi, a flexible open-source media player, and the MLB TV addon. We'll cover everything you need to know about the MLB TV Kodi addon in this in-depth tutorial, from installation and setup to suggestions for enhancing your streaming experience.

What is MLB TV Kodi Addon?
Let's first gain a basic understanding of the MLB TV Kodi addon before getting into the details. The Major League Baseball thrilling world is brought right to your Kodi media center via the game-changing MLB TV Kodi addon. Baseball fans can enjoy the official MLB TV streaming service from the comfort of their devices thanks to its flawless integration with Kodi. 
It seamlessly integrates with Kodi's user-friendly interface, allowing fans to catch up on missed games or watch their favorite teams in real time, making it a must-have for every cord-cutting baseball aficionado. The MLB TV addon is essential for every baseball fan, whether you cut the cord or just prefer Kodi's simplicity.
How to Install MLB TV Kodi Addon?
Installing the MLB TV Kodi addon is a breeze, granting you access to an extensive selection of live and archived Major League Baseball games. Follow these simple steps to get the addon up and running on your Kodi media center:
Step 1: Before you begin, make sure you have the latest version of Kodi installed on your device. This ensures compatibility and optimal performance.
Step 2: Turn on "Unknown Sources" in Kodi's settings to install third-party addons like MLB TV. Toggle the option on by going to "Settings" > "System" > "Add-ons".
Step 3: From the Kodi main menu, select "Add-ons" and then "Install from repository."
Step 4: To view the list of available addons, locate and choose the official Kodi Add-on Repository.
Step 5: Locate the "MLB TV" addon by going to "Video Add-ons" in the repository.
Step 6: To begin the installation process, choose the "MLB TV" addon and then select the "Install" button.
Step 7: After the MLB TV addon has been successfully installed, Kodi will show a notification.
Step 8: Before accessing content, link your MLB TV subscription with the addon. Log in with your MLB TV credentials to enjoy seamless streaming. 
You're now prepared to start on an immersive baseball journey with the MLB TV Kodi addon and running, catching every exciting minute of your favorite games with unmatched simplicity and comfort. Enjoy the thrill of live baseball action at your media center's convenience!
How to Set Up MLB TV Addon?
Setting up the MLB TV Kodi addon is essential to ensure a smooth and enjoyable baseball streaming experience. Once you've installed the addon, follow these steps to get it up and running:
Step 1: Open Kodi on your device and navigate to the "Add-ons" section from the main menu.
Step 2: Locate the "MLB TV" addon you installed and click on it to launch the addon.
Step 3: When prompted, enter your MLB TV account credentials to link your subscription with the addon. This step is crucial to access live games and archived content.
Step 4: Depending on your internet connection and device capabilities, choose the appropriate stream quality (e.g., HD, SD) for smooth playback.
Step 5: Explore the addon's settings to personalize the interface, such as changing the layout, adding favorite teams, or adjusting playback options.
Step 6: Regularly check for updates to the MLB TV addon and Kodi itself to ensure you have the latest features and bug fixes.
Step 7: Select a live game or archived content to test the stream's performance and ensure everything is working correctly.

Navigating MLB TV Kodi Addon
Navigating the MLB TV Kodi addon is a breeze, thanks to its user-friendly interface designed to cater to baseball enthusiasts. Once inside the addon, you'll discover various options to access your favorite MLB content:
Live Games:

Instantly catch ongoing live games by navigating to the "Live" section. Here, you'll find a list of current matches, and you can select the one you wish to watch.

Archived Games:

Missed a thrilling match? No worries! The "Archived" section lets you browse through a vast library of past games, allowing you to relive the action at your convenience.

Search Function:

Looking for a specific team, player, or game? Utilize the search function to find your desired content quickly and effortlessly.

Favorites and Bookmarks:

Make it easier to access the stuff you love by adding your favorite teams or games to the "Favorites" or "Bookmarks" categories.

Home Screen Widgets:

Add MLB TV widgets on your home screen to quickly access live games, your favorite teams, or particular content categories.

Sorting and Filtering:

Make it simple to locate the games you're looking for by filtering them according to teams, dates, or game categories. To arrange content according to your preferences, use the sorting options.

Interactive Game Calendar:

Take a look at the interactive game calendar to organize your baseball viewing schedule in advance and never miss a crucial game.

Multiple devices syncing

: If you use Kodi on several devices, make sure they are synced so that your settings, bookmarks, and watched history are the same on each one.
Enhancing your MLB TV Kodi Addon Experience
To enhance your MLB TV Kodi experience and take your baseball streaming to the next level, consider the following tips and tricks. These will help you unlock the full potential of MLB TV on Kodi, guaranteeing an immersive and delightful baseball streaming experience. Whether you're a dedicated fan or a casual viewer, these suggestions will keep you engaged and excited throughout the entire MLB season.
Use VPN for Geo-restriction
To get past geographic restrictions and get MLB TV content from anywhere in the world, use a trustworthy Virtual Private Network (VPN). Even if your region does not support your favorite games, a VPN enables you to continue playing them.
Try Keyboard Shortcuts
Familiarize yourself with Kodi's keyboard shortcuts for more efficient navigation through the MLB TV addon. This way, you can quickly switch between live games, archived content, and search options, enhancing your overall user experience.
Check Complementing Addons
Explore other Kodi addons that complement MLB TV, such as sports highlights addons or team-specific content. These addons can provide additional insights, analysis, and exciting content related to your favorite teams and players.
Alter the Stream Quality
Change the stream quality for optimum performance depending on your internet connection. You can watch MLB games uninterrupted by lagging or slowdowns with a reliable and speedier internet connection.
Update Addons Regularly
Keep the MLB TV addon and Kodi updated to the latest versions to access new features, improvements, and bug fixes. Regular updates ensure a smoother and more reliable streaming experience.
Opt for Social Media Integration
By integrating MLB-related social media accounts within Kodi, you can keep up with the most recent baseball news, player updates, and fan discussions. Share your enthusiasm for the game and stay in touch with other fans.
Customize Kodi Interface
Take advantage of Kodi's customization options to tailor the interface to your preferences. Personalizing the appearance and layout of the MLB TV addon can make navigation more intuitive and enjoyable.
Conclusion
With the MLB TV Kodi addon, baseball enthusiasts can indulge in an all-encompassing streaming experience, enjoying live games and archived content right from their media centers. Embrace Kodi's ease and adaptability, and you won't ever miss a pitch or a special moment thanks to the addon's capabilities, customization choices, and complementary addons. Get ready to enjoy the magic of baseball like never before as you support your favorite teams.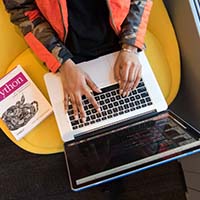 Nancy is a journalist with passion for technology. In her 12 years of experience, she has crafted some of the most detailed pieces that describe the importance, benefits, and progress happening in the technology world.