In the world of adult content creation and entertainment, it's essential to discover effective tools for enhancing your OnlyFans presence. Whether you're an experienced creator aiming to broaden your audience or starting on your OnlyFans journey, you've come to the right place. This guide explores the best apps to promote OnlyFans, enabling you to boost your online visibility, engage with your followers, and optimize your earnings. These apps will help you in social media management, staying relevant, and much more. With their assistance, you can boost your OnlyFans profile to new heights. So, in this article, we'll know more about these apps. But before that, let's learn why promoting is crucial for your OnlyFans account and how you can do so.

Why is Promoting Important on OnlyFans?
Digital marketing and brand promotion have taken over the virtual world. A Facebook ad would be more effective than a Television ad. Even a direct WhatsApp forward will get you more clicks than any other method. So, digital promotion and advertising has become a crucial feature for any content creator.
For OnlyFans, too, where you can get premium adult content, one needs to boost their online presence and increase visibility among netizens. It's a sea of online content creators, and the one with the best marketing tactics wins the race. Each view gets you money on OnlyFans, and for that, you need to reach out to a wider section of the target audience to stay relevant and trending.
4 Effective Tactics to Promote on OnlyFans
Promoting an OnlyFans account effectively demands a multifaceted approach. Here are some strategies you can apply.
Build Social Media Platforms
Harness the power of social media to promote your OnlyFans account. Create engaging profiles across platforms like Instagram, Twitter, and Snapchat, sharing tantalizing teasers and exclusive previews to lure potential subscribers. 
Create a Community
Using relevant hashtags and interacting with your followers can help create a sense of community. Engaging with your audience directly via prompt responses to comments and messages and hosting live Q&A sessions helps build a loyal fan base.
Post Frequently
You also need to be consistent and post regularly. Try maintaining a schedule to keep subscribers engaged, offering a diverse range of content like photos, videos, and live streams. 
Use Features Like Paid Advertising and Collaboration
Consider paid advertising on platforms like Instagram, Twitter, or Reddit to target a wider audience. This will boost your account to a larger section of the netizens. Moreover, collaborations with other content creators in your field can yield mutual benefits through cross-promotion, broadening your reach.
Additionally, offering special promotions or discounts, strategically sharing censored content on mainstream platforms, and rewarding top subscribers can be effective tactics. Remember to stay informed about platform rules and legal regulations, as promoting adult content requires careful adherence to guidelines.
8 Best Apps to Promote OnlyFans
Now that you know why promoting is important and what are its tactics and strategies, here are the 8 best apps to promote OnlyFans.
Snapchat
Similar to chatting with your friends, you can start connecting with your followers through Stories and Snaps. You can share exclusive pictures, personal updates, and events to draw your users in. Make use of the Swipe Up feature through which you can directly link to your OnlyFans profile. In this way, your Snapchat friends can easily find and subscribe to you. Snapchat has a user base of mostly young people who also form the core audience of OnlyFans. The other good thing about Snapchat is that it allows adult content and ensures your privacy. A lot of people have chosen Snapchat as it is friendly to explicit content. So, you will be at the correct place to entice the correct people and hook them to your content. All you need to do is use Snapchat like you do and make your OnlyFans persona more visible.

X or Twitter
Twitter is one of the most opted and chosen platforms for promoting OnlyFans content. Here, you can share alluring photos, videos, and text posts to engage your followers and attract potential subscribers. The app has a user-friendly interface that allows you to post frequently and interact with your audience easily. Twitter is also friendly towards posting adult content, making it a better choice for creators looking to share explicit material. Through X, you can connect with like-minded people and communities, using trending hashtags and retweets to expand your reach further. Give a quirky bio and post some seductive pictures, and you are good to go. However, you will need to be consistent as there are many unused Twitter profiles that are deleted on a daily basis. Still, it's a valuable tool for driving traffic to your OnlyFans account.
YouTube
YouTube is also a great example of promoting your OnlyFans content. By creating engaging videos, such as short teasers, BTS clips, or even vlogs that offer a peek into your lifestyle, you can make your online persona more visible and attractive to people. YouTube's vast user base lets you become popular within a few minutes. However, it's important to note that YouTube has strict policies against explicit adult content.

To promote your OnlyFans effectively, you should focus on creating content that is within YouTube's guidelines. For example, make a video about the places you like to travel or your daily glam-up routine. Daily lifestyle vlogs are some of the most liked videos on YouTube, and this creates an emotional quotient in your videos. Your viewers will become invested in you and your journey and will probably like to know more about you. This way, you can easily divert your YouTube subscribers to your OnlyFans account. You can include links to your OnlyFans in your video descriptions or encourage viewers to follow you on other social media platforms where you share more explicit content.
Facebook
A widely recognized platform and app for people from all over the world, Facebook is undoubtedly the most useful tool to grow your OnlyFans journey. However, Facebook does not let you easily post NSFW content. The key here is to be subtle and promote without being explicit. Share your life journey, personal moments, and updates to pique your audience's curiosity. You can also use paid advertising tools to promote any business or other social media accounts you have. The more people get to know you, the better it is for your OnlyFans profile. The other thing that you can do is join groups related to your niche, which will find you potential subscribers. Through these groups, you will also be able to talk to other OnlyFans creators from whom you can learn more about online visibility.
TikTok
TikTok is another trendy platform that you need to use cautiously to promote OnlyFans. With its easy-to-use tools, you can share quirky clips and behind-the-scenes clips and even interact with your audience through live streams. The platform's viral potential can help you reach a wide audience quickly, as lots of people are getting on TikTok daily. The TikTok algorithm is also one of the best to boost your views. However, there are some cons to consider.

TikTok has community guidelines that restrict explicit content, so you'll need to be creative in how you promote your OnlyFans. Additionally, content may get lost due to the large number of reels being produced each minute. Rather, what you can do is link your Instagram profile from where they can find your OnlyFans profile link. Despite these disadvantages, TikTok can still be a valuable promotional tool. It will eventually give you a vast and loyal user base to depend upon.
Instagram
Instagram is another popular option for promoting OnlyFans content. You can share seductive photos and videos with your followers enough to make them curious. Engaging captions, trendy hashtags, and regular posts can help you connect with your audience. However, it's important to note that Instagram has community guidelines that prohibit explicit adult content. So, promoting your OnlyFans must be done tastefully without violating these rules. But how do you promote OnlyFans on Instagram? For instance, we know Instagram is famous for its aesthetic content. Similarly, you can aesthetically upload pictures and videos to gain reach. Despite these restrictions, many OnlyFans creators use Instagram to direct their followers to their profiles by sharing censored images and sneak peeks. Also, don't forget to put your OnlyFans profile link in your bio.
Reddit
While Reddit is known for its conspiracy theories and rabbit-hole content, you will be pleasantly surprised by the amount of NSFW and adult content that gets posted on Reddit. Reddit's diverse and open-for-all content makes it valuable for OnlyFans users to promote themselves. Additionally, you will get hundreds of subreddits that are specially created for posting explicit materials. This makes Reddit a very easy-to-use app through which you can divert traffic to your OnlyFans page. You are also likely to have genuine followers as Reddit asks the individual if they are over 18, and this helps maintain a level of authenticity. 
Tinder
While Tinder is for making personal connections and potential relationships, you can still use it to attract people to your OnlyFans profile. The key is to be tactful and subtle. While Tinder does not approve of adult content, you can still make your way through it. You will not be allowed to use explicit content, so what you can do is talk about your OnlyFans experience and journey with your connections. Write about what interests you and why you have chosen the platform. Ask them if they would like to be a follower. While this requires some effort, it will still feel satisfying once you get one extra follower. Also, don't forget to add a catchy bio on your Tinder profile. So, be it Tinder or any other dating app, use your brains to do the work and earn money through OnlyFans.
Conclusion
To summarize, the above-mentioned platforms are some of the best apps to promote OnlyFans. However, be aware of the guidelines for each social media app and digitally promote your profile, maintaining the rules and regulations. By harnessing the power of these apps, you can become a famous content creator at OnlyFans and live your dream. So, if you are already an expert or just a novice, it is never too late to use these apps.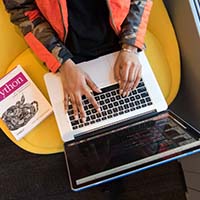 Nancy is a journalist with passion for technology. In her 12 years of experience, she has crafted some of the most detailed pieces that describe the importance, benefits, and progress happening in the technology world.