OnlyFans remains a renowned platform, especially known for its adult content. Not just this, there is a lot of content that pertains to creative writing, photography, cooking, cosplay, makeup, selfies, and much more. OnlyFans creators can offer a variety of content to you, not just adult entertainment! This platform often strikes up conversations and has various queries related to it. A common query is can you screenshot OnlyFans? Well, the platform remains a mystery in this context to a lot of users who may want to screenshot the content but may be afraid if it comes with bad consequences. The briefer answer is, yes, you can take a screenshot on OnlyFans, but only if you follow some guidelines and have taken it for the right purposes.

Can You Take Screenshots of the Content on OnlyFans?
OnlyFans does not get notified when you take a screenshot. So, when you are viewing a status update, video post, photo post, or live stream, you can rest assured about taking screenshots for ethical purposes. The platform does not have a feature that gives prompts or notifications when you are clicking a screenshot.
If you are a creator wondering if you will be informed if anyone takes a screenshot of your content, you will not be notified in such a case. All the content available on OnlyFans can be readily screenshotted or screen recorded in case you need it for certain purposes. You can screenshot since it is content that you have paid for, but not the content you have bought the rights for.
Does OnlyFans Follow a Strict No-Screenshot Policy?
Even with the abundance of adult content and various other types of content on its platform, OnlyFans does not really have a strict no-screenshot policy. As mentioned earlier, when you come across a video, photo, status, or live streaming on OnlyFans, you can, in fact, take a screenshot or make a video of it. There are no clear obstructions in doing that. However, even when it is not entirely "illegal" to screenshot, it is still important to understand two very important aspects of this matter.
No Primary Policy
OnlyFans has no primary policy that restricts you from taking screenshots. While rumors make people believe that the platform blackens your screenshots whenever you take them to prevent the leakage of videos, posts, or something else, they remain just a talk in the air. A lot of people are able to screenshot their favorite content on OnlyFans with just a click of buttons.
Thus, even with a wide variety of subscriber-inclusive content, OnlyFans does not restrict you from taking screenshots. When you do click one or record a screen, neither the platform itself nor the creator of the content will be informed of this happening.
Strict Secondary Checks
Even with no primary no-screenshot policy of its own, OnlyFans takes strict action against its content leaking to secondary places. If you are seen circulating the content on third-party platforms or anywhere else, misusing it for selfish purposes, or morphing the content for unethical practices, you are liable for both serving time and paying heavy fines.

It does not take long for the platform to be informed or find out about the unethical practices of an individual. This means that taking a screenshot only to use it wrongly will result in a serious punishment. This is where OnlyFans takes the "subscribers-only" nature of its content seriously.
When is it Okay to Screenshot OnlyFans?
A lot of subscribers, on a daily basis, surely take screenshots of the OnlyFans content that they enjoy. It is not a new thing since this happens on all social platforms, like TikTok, Instagram, Facebook, Tumblr, Pinterest, WhatsApp, YouTube, and so much more. It is only natural to keep screenshots of the content that proves useful to you; however, it may be until it is not harmful to those around you. While unethical intentions are very well found out and punished, as mentioned earlier, ethical purposes are encouraged. Here are a few examples of ethical intentions
Referencing
References are one of the most important reasons why people take screenshots of content or record it from social platforms, especially OnlyFans. You may have found a recipe or a creative writing article that you would like to keep for future purposes or to quote in further work. This is when you would be considered an ethical user of content. You give credit, and you use it for ethical purposes, so you have nothing to worry about.
Informative Material
Somehow, similar to references, informative material is available all over the internet. If you find something particularly interesting and informative that you think can enhance the quality of your life, help you do something, and make your work easier, you can keep screenshots and recordings of your desired content.
Private Purposes
Private purposes are restricted to adult content. OnlyFans has a lot of provocative and sensual content that may appeal to you in a certain way. You may be screenshotting or screen recording the content for the purpose of personal gratification, and this is okay. It is not okay if you spread it around without consent and for unethical purposes.
Are There Any Consequences for Screenshotting OnlyFans Content?
Once you have understood the way screenshots work on OnlyFans, you need to come to the consequences of this. There are broadly two possibilities that can be foreseen when you take a screenshot or make a screen recording of the content on OnlyFans.
Keeping it to Yourself is Okay
When you screenshot something on OnlyFans or screen record something, it is okay as far as your intentions are concerned. If you have only taken the screenshot for ethical purposes such as references, knowledge, and private purposes, it will not have any negative afflictions on you. Instead, it will be quite okay because your intentions are in the right place.
Circulation is a Crime
If you take a screenshot only to morph it, circulate it, sell it to malicious parties, or post it somewhere without consent, OnlyFans will take strict action against you. You can face months of prison time as well as a fine of a great sum if you use OnlyFans content for the wrong purposes. If the creator sues you as well, that is another case of punishment on top of the last one.
Some Aspects of OnlyFans to Know About
Now that you are amply familiar with the way screenshots work on OnlyFans, you can move on and understand the basic aspects of the platform so you can be a more cognizant subscribing member or creator. OnlyFans is a creator community where you can access adult, cosplay, pornographic, cooking, photography, creative writing, and some other types of content that you are interested in. Let us understand how this works with the help of some basic aspects-
Content Variety
OnlyFans offers a good variety of content, like photography posts, creative writing works, cosplay updates, adult content, pornographic videos, cooking recipes, and a lot more. While a large part of the creator community uses the platform to create adult and pornographic content, the other types of content also do well here.
Subscriber Interaction
Subscribers can not just access but also interact with the content they see on OnlyFans. They can do this in the form of direct messages, comments, live stream comments, and direct feedback. You can contact the creators and request certain types of content as well.
Subscription Tiers
The subscription tiers of this platform also differ. They all provide various types of access to the content, along with perks. The lowest tier plan is the basic plan. The highest-costing plan is the premium one with more perks, access, and features for you to explore.  
Fan Loyalty
Fan loyalty is one of the most important aspects of content creation on OnlyFans. It refers to the degree of dedication at which a creator's subscribers engage with their content. Creators can boost their reach and loyalty by providing exclusive benefits, quality content, engagement, transparency, authenticity, consistent pricing, promotion, marketing, giveaways, and maintaining professionalism. This can boost their status and gain their loyal fans.
Content Monetization
OnlyFans earnings are very well known to be bountiful for its creators. Many creators have claimed to earn a whopping 4-5 figure payout a month with the help of this platform. The money for the content of creators comes largely from subscription revenue, tiered subscriptions, PPV content, tips, donations, custom content requests, live streaming, merchandise, affiliate marketing, partnerships, sponsorship, and advertising.
Conclusion
The ever-rising question of can you screenshot OnlyFans is now answered. Users who wish to screenshot and keep the content for important purposes, like if the content is informative, for references, or for private purposes, are most welcome to do so. However, please note that any unauthorized circulation of content that belongs to OnlyFans is an action that faces severe consequences. Always remember to uphold the principles of safe digital browsing and usage. The above-mentioned reasons, mechanisms, and aspects are put forward so you can gain an answer properly.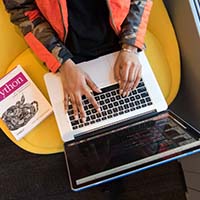 Nancy is a journalist with passion for technology. In her 12 years of experience, she has crafted some of the most detailed pieces that describe the importance, benefits, and progress happening in the technology world.