Getting a Smart TV up and running might be a bit challenging since some Smart TVs may not have access to the Google Play Store. Android TV boxes can help with that. These are widely accessible, simple to put up, and frequently fairly priced. Any "plug and play" gadget that can connect to your TV and let you install your apps is referred to as a Kodi box.

Millions of people looking for entertainment throughout the world now pay attention to Kodi/XBMC, a prominent on-demand video provider. Kodi media center is unrivaled with its aesthetically beautiful UI, vast video library, smooth streaming, and excellent functionality. The best Kodi boxes can operate on practically anything, and it is one of its greatest plus points.
14 Best Kodi Boxes
The cross-platform, free, open-source home theatre PC (HTPC) software offers a ton of capability. It's a robust HTPC tool with outstanding local file playback, networked media features, and a sizable library of streaming add-ons. Your media library of digitized movies, TV series, audio files, and images may be organized using the opulent interface that Kodi offers.
Check out the list of the best Kodi boxes below.
NVIDIA Shield Tv Pro
If you want the best streaming device, choose the Shield TV. Both Dolby Vision and Atmos in 4K HDR are supported by this device. A Tegra X1 CPU, found in the powerful Nvidia Shield, is capable of handling 4K and HD video playback with lightning speed.

The newest Tegra X1 plus processor from NVIDIA is up to 25% quicker than the previous model. You may watch your favorite videos in greater definition on Nvidia Shield, along with captivating Kodi skins with lots of visuals. Kodi installation is made simple as Nvidia Shield runs an Android OS.
Xbox Series X
The top Kodi player available right now is the Xbox Series One. Kodi runs incredibly well on the Xbox thanks to its powerful hardware, which has an 8-core processor and 16GB of RAM.
It comes with excellent design and capable hardware. In addition, it supports 4K-HDR, and Dolby Atmos is also present. Installing apps on devices other than Amazon devices is simpler, thanks to an integrated app store.
Amazon Fire TV Stick 4K Max
Streaming gadgets like Amazon Fire Sticks are probably among the most popular in the globe. It's difficult to argue against the value of this device as a Kodi Box, given that it supports OTT services like Netflix and Amazon Prime Video.

Performance-wise, Amazon's most recent Fire Stick doesn't stutter when streaming 4K content. To rapidly choose between the titles, it also includes built-in Alexa functionality. The improved 4K stick is known as the Fire TV Stick 4K Max. It has a faster CPU and more RAM compared to its previous version, which according to Amazon, will result in a 40% increase in power.
Beelink SEi 10 Mini
Beelink has created a PC that is roughly the size of a portable speaker and is equipped with an i5 10th Generation Intel CPU. No matter how you use it, it is incredibly quiet and never has heating problems. It just takes a few minutes to set up a Kodi box, and you can get one right from Microsoft's shop.

Nevertheless, it is a standout device because of its extendable RAM unit, Thunderbolt 3 support, and NVMe SSD. The Beelink streaming box could be for you if you value having a compact and straightforward Kodi machine that can support 4K streaming.
Raspberry Pi 4
If you are willing to put in some effort, the Raspberry Pi 4 may function as a multifunctional media box. It is the ideal choice for constructing a potent Kodi box due to its tiny program. Kodi program may be sideloaded with pre-built settings.
After installation, the animations and user interface perform quite efficiently. The device sports a powerful quad-core CPU. To increase its performance, you might also utilize an Ethernet connection.
Fire TV Cube
Fire TV Cube can hear you from any angle thanks to its eight microphones, far-field speech recognition, and beamforming technology. Using your voice to search, play, pause, fast-forward, and other functions is convenient. You may also simply use your voice to operate your TV, sound bar, cable or satellite box, receiver, and more.

The built-in speaker on the Fire TV Cube enables you to perform a variety of tasks even while the TV is off, like listening to the news, checking the weather, and controlling compatible smart home devices. With access to vibrant 4K Ultra HD at up to 60 frames per second, HDR, and the acoustic clarity of Dolby Atmos, you can enjoy pictures and sounds that are as real as possible.
ZIDOO Z9S
In addition to the high-level hardware features, the ZIDOO Z9S has an Ethernet Gigabit connector, a great eMMC memory speed, and a Wi-Fi AC wireless adapter that gives strong signal quality and a wide coverage area.
It also has a clever exterior design, full backlinking control, and a ton of ZIDOO bespoke software. Compared to the previous generation of chips, the performance is 30% greater, and the capacity to expand peripherals is more potent. Both a new picture optimization engine and an HDR to SDR conversion engine are included.
NEO U9-H
With complete HDR10 compatibility, NEO U9-H achieves new levels of image quality. It shows brighter whites and blacks that are deeper.
The HDR (High Dynamic Range) technology broadens the color spectrum and highlights contrast to produce a more realistic and colorful viewing experience. Android 6 is installed on the U9-h, and installing apps to the SD card is simple.
Roku Ultra 4
Roku Ultra 4 is one of the Kodi streaming devices that are worth buying. It supports 4K video playback allowing Kodi users to have the greatest experience possible. When discussing the hardware setup, Roku Ultra 4 has a potent quad-core CPU that always provides quick video streaming.
Roku Ultra 4 is a top-rated Kodi box for streaming unending media because of its outstanding search engine, headset-compatible remote control, and improved performance.

It's Android 9.0 Pie operating system makes the Tubewell T9 Android 9.0 TV box quick and responsive while using Kodi. Kodi goes by the moniker KD, which is the default media player. This Android TV box has a respectable selection of games, a pleasing user interface (considering the price), and access to the Google Play Store, which gives a wide variety of entertainment options.
Additionally, it supports video decoding and plays all common audio and video formats, including 4K HD video practically. With its H.265 decoding, it will use 50% less streaming bandwidth than H.264, enabling users to play a wide variety of Android games in high definition on a 4K screen.
Mecool MK9 Pro
The Mecool MK9 Pro, which runs on Amlogic's newest chipset, the S905X2, is capable of streaming YouTube in 4K and has HDR10, HLG HDR, and H.265(HEVC) video compression for improved contrast, color, and clarity.
You can manage the TV box with voice commands thanks to its speech control feature and Bluetooth voice control remote controller, which is both innovative and practical. The Mecool MK9 Pro makes it simple to manage your smart home simultaneously because it comes with Google Assistant built-in.
Matricom G-Box Q2
The Matricom G-Box Q2 is among the greatest Kodi streaming boxes available since it lacks no functionality. The Matricom G-Box Q2's Android OS makes installing Kodi a quick and easy process.

When all the extras are taken into account, a powerful quad-core 2 GHz CPU and the most recent AC Wi-Fi standard guarantee quick 4K video streaming.
Onn Android TV Box
The Onn Android TV Box from Walmart is a great option for those seeking a low-cost Kodi box. Kodi can be installed and used on this gadget, which costs only $19 when purchased.
You might be unsure if it can stream with Kodi and other APKs, given its inexpensive pricing. The Onn box has all the features you want for limitless streaming with Kodi, IPTV providers, and more after conducting a thorough evaluation.
Formuler Z11 Pro Max
One of the most well-known gadgets for Kodi and general video streaming is the Formuler Z11 Pro Max. The "Realtek RTD1319C" set-top box-specific CPU, with four highly effective cores and a 1.4 GHz clock speed, is installed in the black box's contemporary design. 32 GB of storage and 4 GB of RAM are both features of the Formuler Z11 Pro Max.

With HDR10+ and all current and widespread video codecs, including AV1, H.265 HEVC, H.264, and many more, the device offers 4K video output at up to 60 frames per second. An updated version of Android 11, version 11, is included in the package. The Pro Max variant has built-in AXE 22 Wi-Fi, a gigabit Ethernet connector, 2 USB ports, a microSD card slot, Bluetooth 5, and a top-mounted IR extension.
Conclusion
You may add media from a variety of sites, including networked and local drives, in the best Kodi boxes. Additionally, Kodi offers a strong selection of add-ons that are comparable to the apps you would download for an Android TV box, Roku, Amazon Fire TV, or Apple TV device.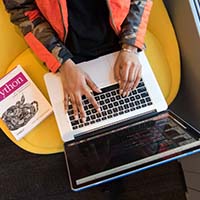 Nancy is a journalist with passion for technology. In her 12 years of experience, she has crafted some of the most detailed pieces that describe the importance, benefits, and progress happening in the technology world.