The increasing amount of popularity of Verizon cannot be ignored. Also, there are obvious reasons behind this. Verizon is a leading service provider of internet, calling, voice, text messages, and more. As a result, many people are asking about the ways to pay someone else's Verizon bill.
Verizon promotes flexibility. So, you do not need to worry about going through any complex process. For example, you will not need any password to pay someone else's Verizon bill, or you do not need to get listed as an account manager. What you need is the payment information to perform the task.
Methodologies to Pay Verizon Bill of Someone Else
It is very easy to pay someone else's Verizon bill, which adds minutes. You can do it by visiting the official website of Verizon or making use of the My Verizon app, or you can also visit the authorized Verizon stores to get a refill card.
If you use your mobile phone, make sure that you are on a proper 4G network, or your payment can halt. So, if your 4G is not working, fix it.
Make use of Verizon's Official Website

If you have got an online Verizon account, it is the easiest way to add minutes to someone else's Verizon prepaid, as you can make an online recharge by using the website itself.
The steps to recharge the Verizon prepaid of someone else online are as follows:
Step 1: Visit "My Verizon." Then, you will have to input your credentials for signing into your Verizon account.
Step 2: You will need to tap on "Add or Send Funds" and then hit the "Next" button.
Step 3: If you are the account owner, you will need to input the person's mobile number to whom you want to send the funds, and then tap in "Send Funds."
Step 4: You will have to input the amount you wish to send before choosing the payment method.
Step 5: Then tap on "Send Funds."
Step 6: Before you finally make the payment, carefully review the transaction information.
Step 7: Finally, click on "Done."
Register for AutoPay

You can use the AutoPay feature of Verizon to recharge the mobile data plan of your friends and family automatically. It will deduct money from your credit or credit card as per your instructions. The steps for registering for Verizon's AutoPay feature are as follows:
Step 1: You will need to log in to "My Verizon."
Step 2: You will need to tap on "My Billing" and choose "AutoPay."
Step 3: Now, you need to input the payment details and then schedule your monthly date for making the payment.
Step 4: Finally, tap on "Confirm."

Buy a Refill Card
You can also pay someone else's Verizon bill or recharge a number of any other person by buying a refill card offline. For example, you can visit your local supermarket and buy a refill card from Verizon. And after making the purchase, you will get a 4-digit security code on the number. This code is used for security reasons.
You will need to enter the 4-digit number in the confirmation box, and the person will receive the recharge in the least amount of time.
Additionally, a confirmation message about the success of the recharge will also be received by that person.
Use the Refill Feature
It is one of the easiest methods to recharge someone else's account. First of all, you will need to visit the wireless website of Verizon. There you will find the "refill" feature.
You will require a credit card or a debit card to pay for the minutes. Then you will need to buy a refill card and place it on the recipient's cell phone. If you own a Discover card, American Express card, or Visa Card, this method will work out smoothly.
Visit the Official Store of Verizon
You can always approach an authorized Verizon store to pay someone else's Verizon bill.
The agent at the store will offer you a refill card that you can use for recharging the number of your family or friends.
Text Verizon
You can make use of your phone to pay your bill or invoice general (Vantazo). All you need to do is dial #PMT on your mobile device. An automated system will give you a prompt that you must follow.
It will ask you to input your Verizon account details. And from there, you can easily recharge anyone's Verizon bill.
Call Verizon Directly
Why do you not call Verizon directly if you use a mobile phone? Call Verizon at (800) 294-8804 straightaway to add minutes to anyone else's number.
Also, you may get in touch with the prepaid team (888) 294-6804 to receive direct assistance. The team will guide you about what you need to do exactly.
You can make use of the social media pages of Verizon for seeking assistance or through the live chat option available on the website.
Other Ways
Minutes can easily be added to someone else's Verizon account by using the "My Verizon" mobile app. Keep the mobile app updated and if any updates are unavailable, try updating your Google Play store or app store first.
Besides, you can make a one-time payment without visiting an authorized store or signing into a Verizon account.
Besides, if you are running out of cash, you can opt for the "promise to pay" feature of Verizon, where you can make payments later. Also, you can transfer minutes from your number to someone else's number if you have sufficient balance.
Conclusion
Verizon is known for facilitating flexibility to users. It offers you an array of options so that you never stay out of recharge. Verizon has come up with some of the best features to keep the connectivity intact. Also, the customer support team of Verizon is always there for help. For any query, you can always expect the best assistance from them.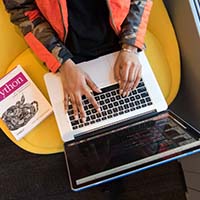 Nancy is a journalist with passion for technology. In her 12 years of experience, she has crafted some of the most detailed pieces that describe the importance, benefits, and progress happening in the technology world.