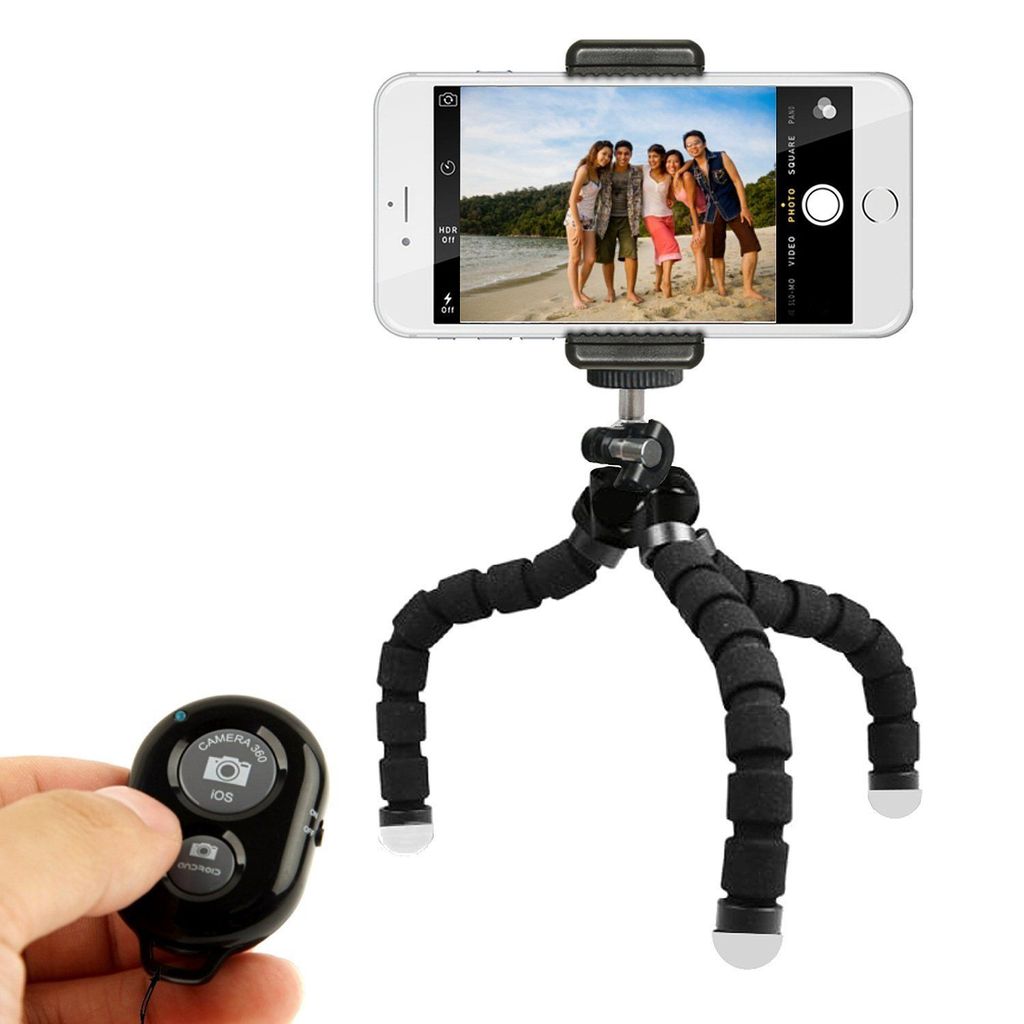 Having a smartphone tripod can make or break your filming or viewing experience, especially if you are a Netflix-enthusiast extraordinaire or a YouTube vlogger. We have researched and listed some of the best smartphone tripods that are compatible with various brands. Therefore, if you are looking for the best smartphone tripod for iPhone or Samsung or other brands, here are some of the top-rated products that you should consider. These smartphone tripods will make your mobile phone use for camera shots, video capture and media viewing more enjoyable.
The best Smartphone Tripods in 2019
1. Ravelli Lightweight Smartphone Tripod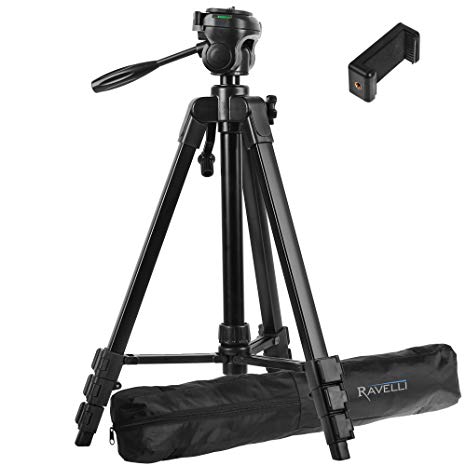 The Ravelli Lightweight Aluminum Tripod is one of the most ambitious gadgets in the market and its category. It is a lightweight, durable aluminum construction that keeps it stable in even harsh conditions. The smartphone attachment offers a tilt and pan motion that allows you to capture video and photographs in your amateur filming career seamlessly.
Besides, the aluminum tripod is extendable to 61 inches, which provides a wide range of angles. It also includes a carrying case that ensures that your equipment remains safe while traveling to the scene.
Key Features
A maximum height of 61 inches
Tilt and pan motion feature
Includes a smartphone mount attachment and carrying case
Rubber feet and lever leg locks
2. Digiant Aluminum Camera, Smartphone Tripod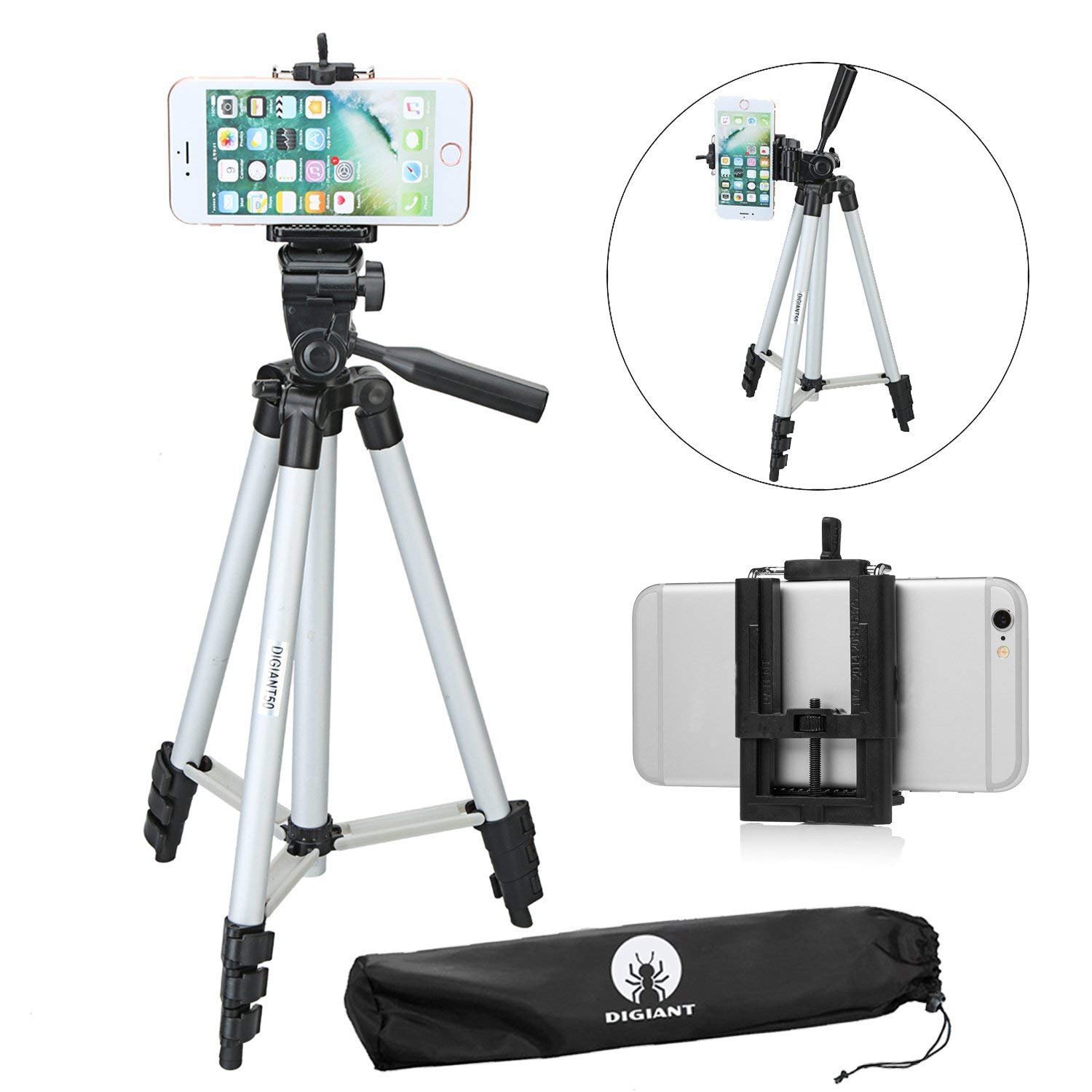 Digiant is another top quality smartphone tripod that offers you a fun way to capture photographs and video at unique angles. The smartphone tripod comes with several great features and can be extended up to 50 inches, which allows for epic shots at almost anywhere.
Moreover, the tripod is designed with padded grips that enable it to grip onto the asphalt and concrete firmly. It also features a compact design, which allows you to store it in a backpack or your pocket. Apart from the sturdy construction, the Digiant smartphone tripod comes with top-grade stabilizers and exceptional width that makes it stand out from the competition.
Key Features
Top-grade stabilizers on the center stand and between all three legs
A firm grip that ensures that your smartphone remains safe
Easy crank maneuver for adjustments
3. LOHA Flexible Smartphone Tripod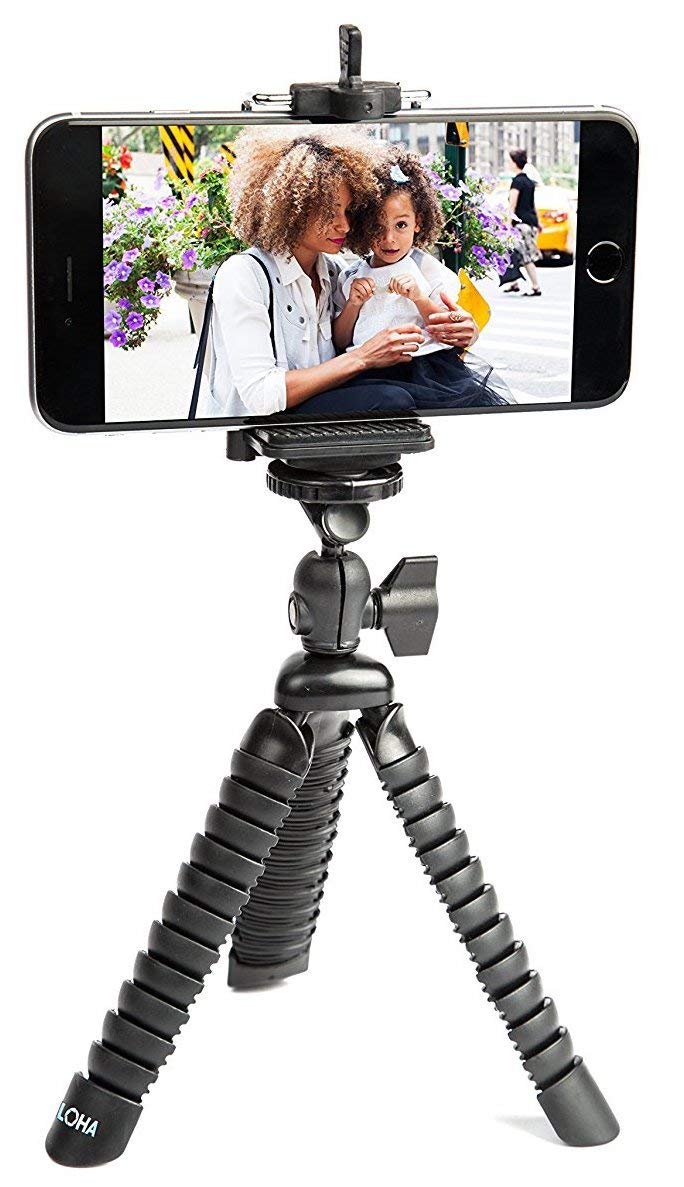 As the name suggests, LOHA is a flexible smart tripod that universally compatible with both Android and iOS. The phone holder provides both portrait or landscape mode capabilities and allows for cinematic video capturing. It is also designed with bendable legs that enable you to take video and picture in a variety of positions and angles.
The only downside about the smartphone tripod is that it weighs slightly more than most of the products in its category.
Key Features
Lightweight and compact
Flexible legs with rubber feet
Compatible and universal phone holder
Stabilizer design
The Best iPhone Tripods in 2019
1. Joby GorillaPod 1K Kit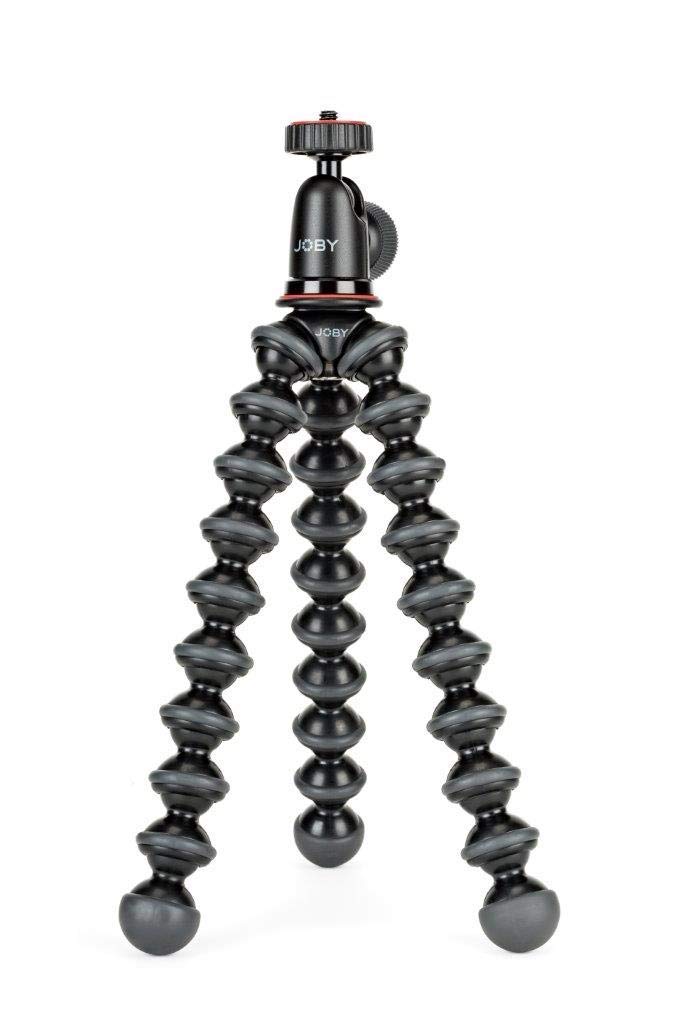 The Joby GorillaPod Kit tripod is an ideal device to invest, especially if you find yourself taking several low-light photos, videos, and time-lapses. Pairing the flexible tripod legs with a mount offers incredible filming and photo taking experience. It features a sturdy construction that enables it to stand out from other smartphone holders, as there are many copycat versions.
With the sturdy construction, the smartphone tripod is suitable in a wide variety of conditions. It also comes with many useful features, which makes it more practical in different situations. The GorillaPod 1K's is designed with unique flexible and jointed legs that bend into any position but stays put once you set them. Besides, the smartphone tripod is ideal for all iPhone users as it is about 8 inches long and can is more compatible with almost any mount.
Key Features
Versatile
Compact and lightweight
Rubberized foot grips and ring for enhanced stability
Flexible legs
Lifetime warranty
2. Square Jellyfish Spring Tripod Mount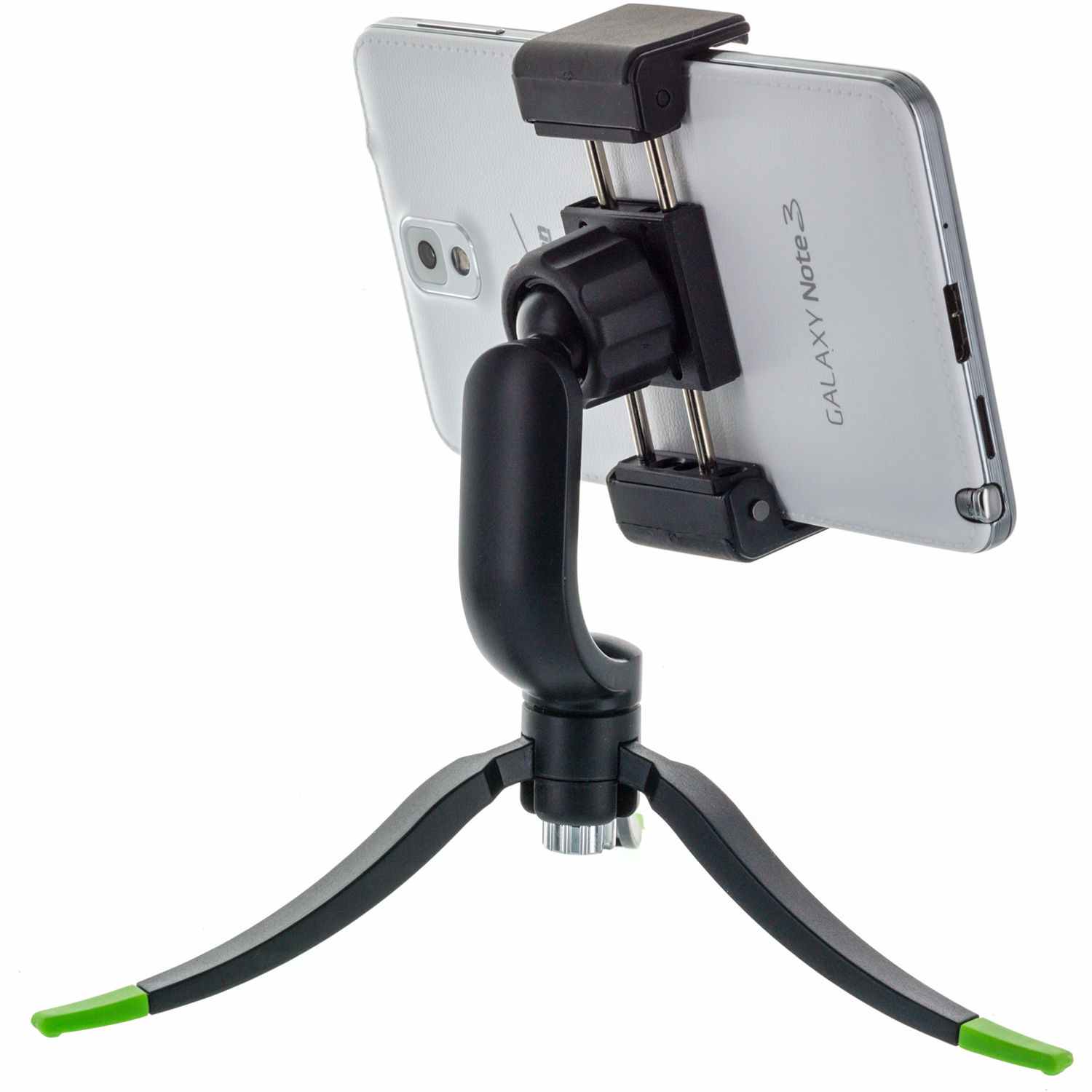 If you are looking for an excellent smartphone tripod or you want to upgrade from standard devices, then Square Jellyfish Spring is a great option. The universal tripod mount is sturdy enough to hold your iPhone tightly and also small enough to keep in your pocket or backpack.
Once fixed on the tripod, the universal mount allows you to rotate your iPhone or any other smartphone 360 degrees. Besides, the tripod mount enables you to keep your smartphone standing in landscape or portrait position during a video hands-free or taking a photo. With the sturdy construction, the tripod mount is even ideal for heavier smartphone lens attachment.
Key Features
Sturdy heavy-duty clamp
Great universal design
Compact and lightweight
Ideal for multiple purposes
3. ChargerCity MegaGrab2 Flexible Tripod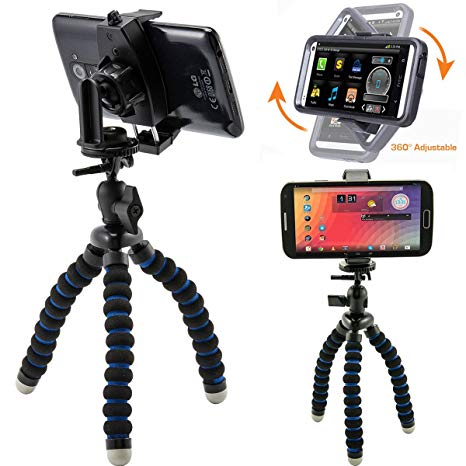 The ChargerCity MegaGrab2 Smartphone Tripod offers plenty of support and easily collapse into a small carrying case. It is also our budget pick as it is more affordable than most products in its category. However, the only downside with this device is that it is less well built, which means it offers less support.
With the less sturdy construction, the smartphone tripod is suitable for smaller phones. Consequently, many clients have expressed their frustration while trying to position an iPhone 6 Plus using the device.
Besides, the rotating tripod mount allows you to flip your smartphone in full circle comfortably. It is equipped with a spring-release mechanism that securely clutches your cell phone.
Key Features
Easy Installation
Features a standard threaded camera for Periscope Streaming Live Video Streaming
Flexible legs for secure mounting
Ideal for multiple devices
Equipped with Bluetooth remote control for photo capture
Allows for 360-degree swivel for multiple shots
The smartphone tripod is an important device for those who enjoy taking photos or in the filming industry. Finding the best smartphone tripod can be a considerable challenge due to the high number of products available in the market today. However, with the information and the list products reviewed above, we believe that you can get a smartphone tripod that meets your requirements.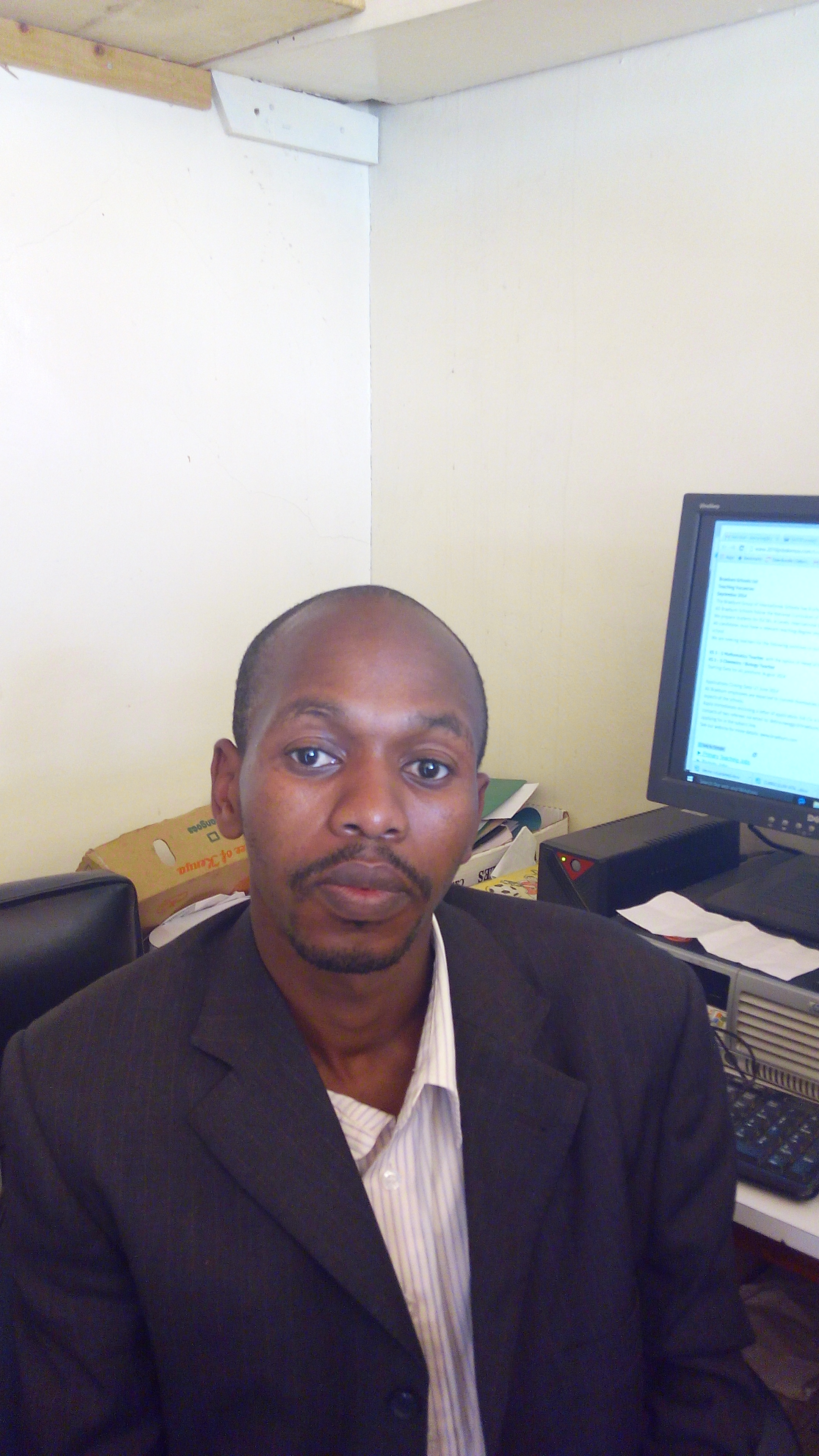 Denis is an article/blog and content writer with over 3 years of experience in writing on different niches, including product reviews, buyer's guide, health, travel, fitness, technology, tourism. I also have enough experience in SEO writing.