Smart TVs are getting popular each day with new and popular brands trying hard to get their mark among the customers. The Seiki 32 inch smart TV is a value for money option for people looking for an inexpensive and compact smart TV. The built-in WiFi makes it easier to connect with your home network and enjoy contents from services like Netflix, YouTube, etc. It is also Freeview HD enabled that allows you to enjoy free channels and content on your TV uninterrupted anytime.
Freeview HD gives you access to more 50 channels directly to your smart TV without requiring a subscription to any third party service. The Seiki Smart TV is not something that will turn heads, but surely it has all the features that are necessary for a good smart TV. You can use apps directly on your TV and enjoy your favorite shows on Netflix or YouTube. Keep touch with your friends as you can use your social media apps like Facebook directly on the TV.
The remote control supplied with the smart TV comes with a QWERTY keyboard making it easier for you to interact with your television. Entering command or replying to your friend on Facebook has never been easier. To be honest this remote is my favorite until now with any smart TVs available in the market.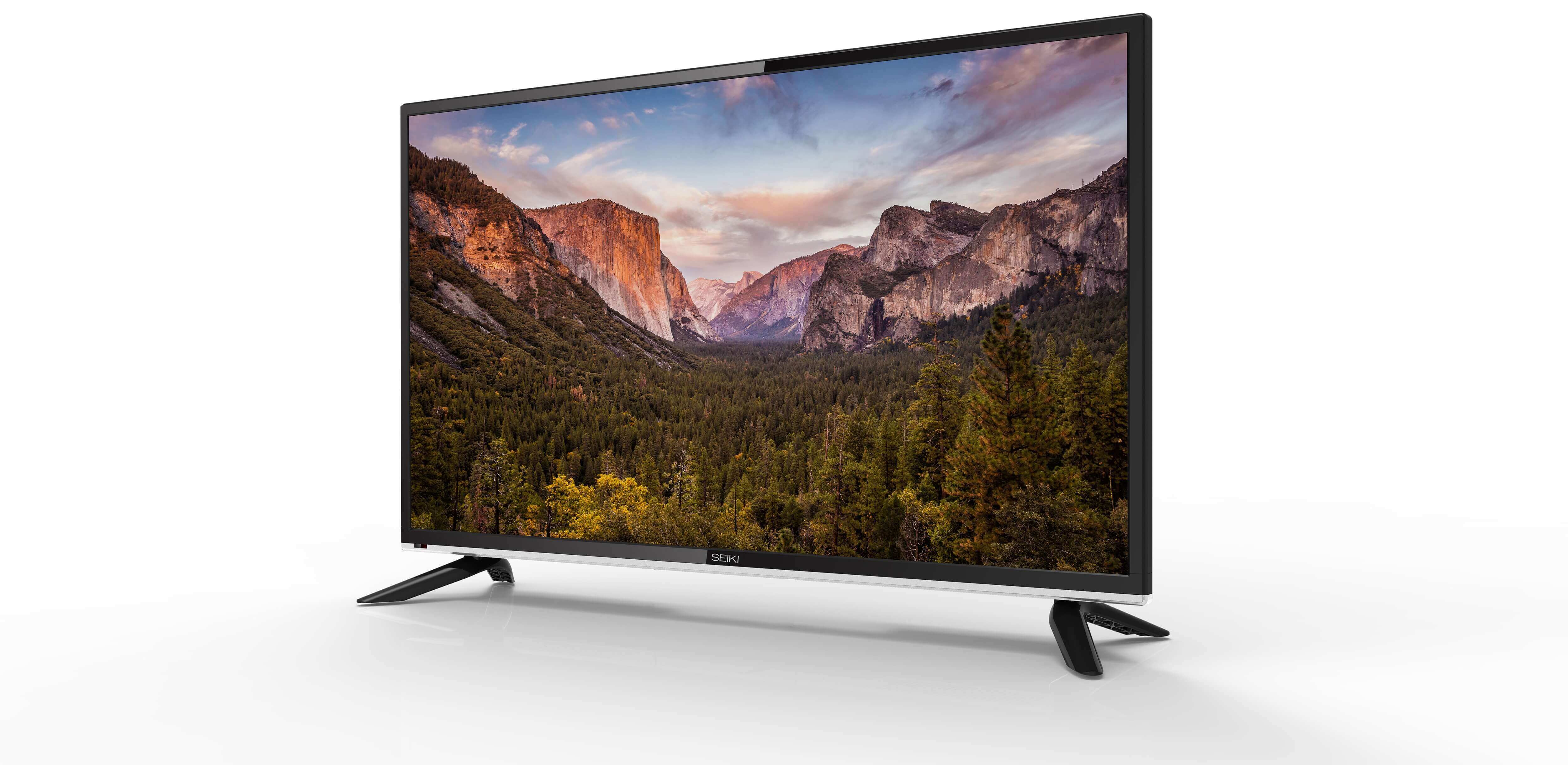 The Seiki 32-inch smart TV comes with a lot more than you can expect from a smart TV that is so aggressively priced. Seiki has done an exceptional job making the smart Tv worth every penny. Keeping it simple, it has ensured that all the necessary features are present on the TV to make it worth it. It surely does not have any bells and whistles about it, but the simplicity and value make it a great choice for a smart TV in the budget that is not a ripoff.
In-Depth Seiki 32 inch Smart TV Review
Having already set the tone for the Seiki smart TV to be a great value for money option for the buyers, let us look in-depth about what are the goods and bads of this smart TV. If you look into the Seiki Smart Tv with an open mind considering the price, it seems to be rather appealing. It has been made with the customers in mind to ensure they can enjoy the contents wirelessly. The built-in WiFi allows for wire-free access to tons of contents from popular streaming services like Netflix, BBC iPlayer, BBC News, BBC Sports, Toongoggles, YouTube and others.
What is good about the Seiki 32 inch Smart TV
The Seiki Smart TV has a lot to cheer about, thanks to its great value for money. It is designed to be able to sit on a table or hang on the wall using the wall mount provided inside the box.
Thin Bezzles
The screen on the Seiki 32 Inch Smart TV has very thin bezzles all around, making it a great visual experience to enjoy on your television. Thin bezzles allows for richer and vibrant experience without the distraction of black bars all around the edges. It even allows for an immersive experience for the viewers sitting on the couch enjoying their favorite shows.
Built-in WiFi
It makes sense to have built-in WiFi that allows for wireless connectivity to your TV allowing you to enjoy your favorite contents from the web. Today, we consume a lot of content over the internet compared to the past. To be fair, we tend to watch more content online than our regular satellite TV channels. Smart TVs has thus become an important consumer product in recent times.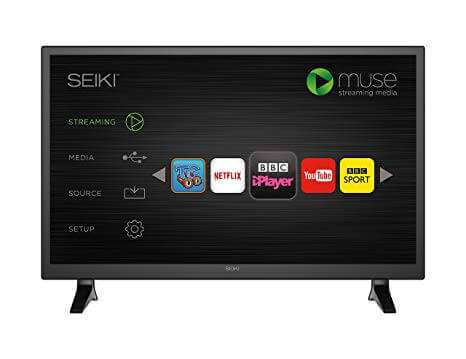 We normally consumer our internet content on our handheld devices like Smartphones or Tablets, Smart TVs provide a lot bigger screen plus the added opportunity to stream content directly over WiFi. Using this, you can stream your choice of content from YouTube, Netflix, BBC network, Toongoogles, and others. It also allows you to use some of the apps you generally use on your handheld devices like Facebook.
HDMI Input
HDMI stands for High Definition Multimedia Interface that allows you to connect your TV to any High-Definition devices like your HD Cable TV or other High Definition sources. Using this feature you can stream HD Content directly to your TV using the HDMI input of the television. HDMI makes it easier to stream High-Definition (HD) audio and video over to the television using a single HDMI cable.
This also allows you to hook up your game console to the TV using the HDMI input. You can connect your Xbox or Playstation directly to the TV using the HDMI input for HD gameplay. HDMI allows an array of options for you to hook up components to the TV using the HDMI interface. You can even connect your PC or Laptop to the TV using a single cable through the HDMI port. The best of the Seiki 32 inch smart tv is the presence of 3 HDMI ports, giving the freedom to connect three devices at once to the TV without any interference.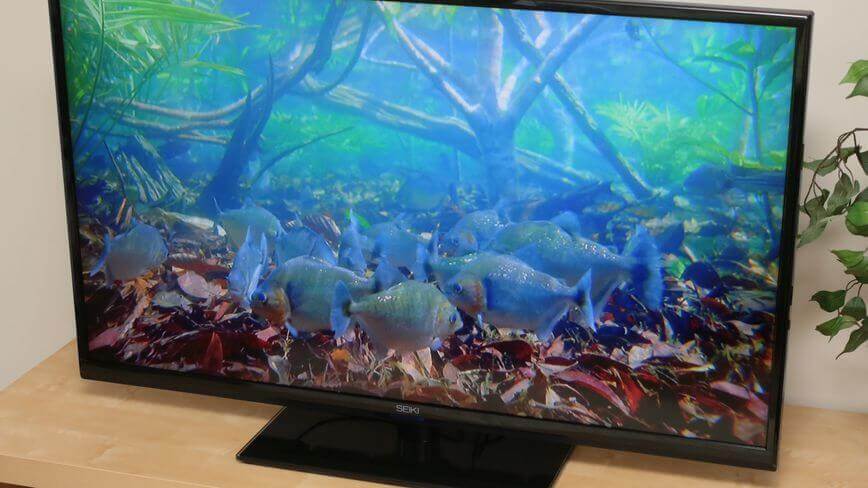 Freeview HD Support
The Seiki 32 inch Smart TV comes with Freeview HD support that provides over 50 standard definition TV channels free on your TV directly. It is built into the TV making it just a click away to enjoy free content on your TV.
Qwerty Remote
This one is unique to the Seiki Smart TV. It comes with an unique QWERTY remote for easy typing search words and navigation on the TV interface. From the front, it is similar to your usual TV remote, flip it and you have an unique physical full qwerty keyboard for easy typing. Searching your favorite show or youtube channel has never been easier as using the Seiki remote.
This will make your life a lot easier while searching or typing big words or phrases to find the content you desire to watch. No more haggling around the buttons to type your favorite artist name. The full qwerty keyboard does an impressive job for comfortable typing and searching on the TV menu. More brands must adopt this or similar technique to allow users to navigate more efficiently on their smart TVs. It has always been a struggle for users to type using the similar age-old TV remotes we have been using through generations.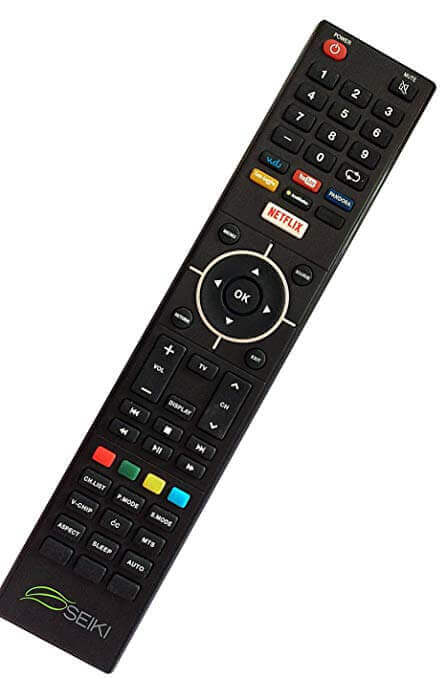 Seiki Muse Interface
Now, this opinion might vary from user to user and their preferences. One thing you can't deny is the Seiki Muse interface which is clutter free and sleek. It gives a cleaner menu for easier navigation and finding things on the Smart TV menu. Every other Smart TV comes with their own version of user interface. Seiki Interface though not a very versatile one is a lot cleaner and easier to navigate through the menu.  
Supplied Wall- Mount
This is not a feature but a great option to have as it will save you some bucks in not purchasing a wall mount for your smart TV. It comes inside the box making it easier for you to install it as soon as you get it delivered to your doorstep. It also has a table stand if you are some one who prefers your TV on your table.
What are things that are not that Impressive on the Seiki 32 inch Smart TV
Although the deal may sound appealing for the price and the features it offers, the Seiki 32 inch smart TV has its fair share of shortcomings which demand an improvement.
HD Ready
This might be one of the biggest deciding factors for many who specifically want a Full HD Screen on their television. It allows for HD input but the panel is a HD Ready or in words, a 720p panel, reduces the sharpness and contrast as compared to a Full HD one. However, for average users who are moving from a CRTV to a Smart TV, the difference will not be noticeable. The pictures will look a lot sharper and crispier as compared to the old CRT panels.
The colors, however, look sharp and pack a lot of punch is a HD Ready TV. The thin bezels make it look crispier in real life, somewhat filling in the gaps of the 720p panel. If you are not planning to use it for streaming HD contents only, this TV for the price is a wise option to think about while you are in the market for a smart TV.
Limited Apps
The Muse interface is easy to navigate but does not have a lot of apps that other platforms have. They lack the versatility of Android TV or other popular TV interfaces. The apps provided are somewhat limited and you have to stick with them, even if you like it or not. This, however, can easily be fixed by a firmware update from the manufacturer. Not sure when or if at all Seiki will come up with some update to add more apps to the smart TV interface for more content.
It also bogs down the user experience as you cannot download any new apps on the TV. You are stuck with the only ones that come with the TV. This restrictive interface can be a big turn-off for the end users.
Not great Speakers
The speakers on the Seiki 32 inch smart TV are not great to be blunt and honest. They are decent enough but not much loud or have much clarity to the voices. It sounds mushy at the low ends and has very little vocal boosts. A separate speaker will be a better option for your TV if you want to enjoy dialogues clearer and crispier.
Final Verdict on the Seiki 32 inch Smart TV
For being an affordable smart TV with basic smartness, this TV is a great deal for the value it provides having shed your money. It comes with all the basic necessary features that one wants on a smart TV. It is wireless to allow you to connect it to a WiFi network without any wires. The built-in WiFi ensures you can enjoy content out of the box without any need for setup and wires. It is fairly easy to set up and use given the minimalistic Muse interface on the television.
It does not have any feature to blow your mind but has enough to make it a worth buy considering the price. The Seiki also has some tricks up its sleeves with Freeview HD support, 3 HDMI input ports, a physical full qwerty keyboard, and wall mount supplied inside the box. It can be a great option for people looking for something affordable yet has the most necessary functionality as a Smart TV and allow you to enjoy content online like Netflix or YouTube. If you have realistic expectations this Seiki 32 inch smart TV is a smart buy.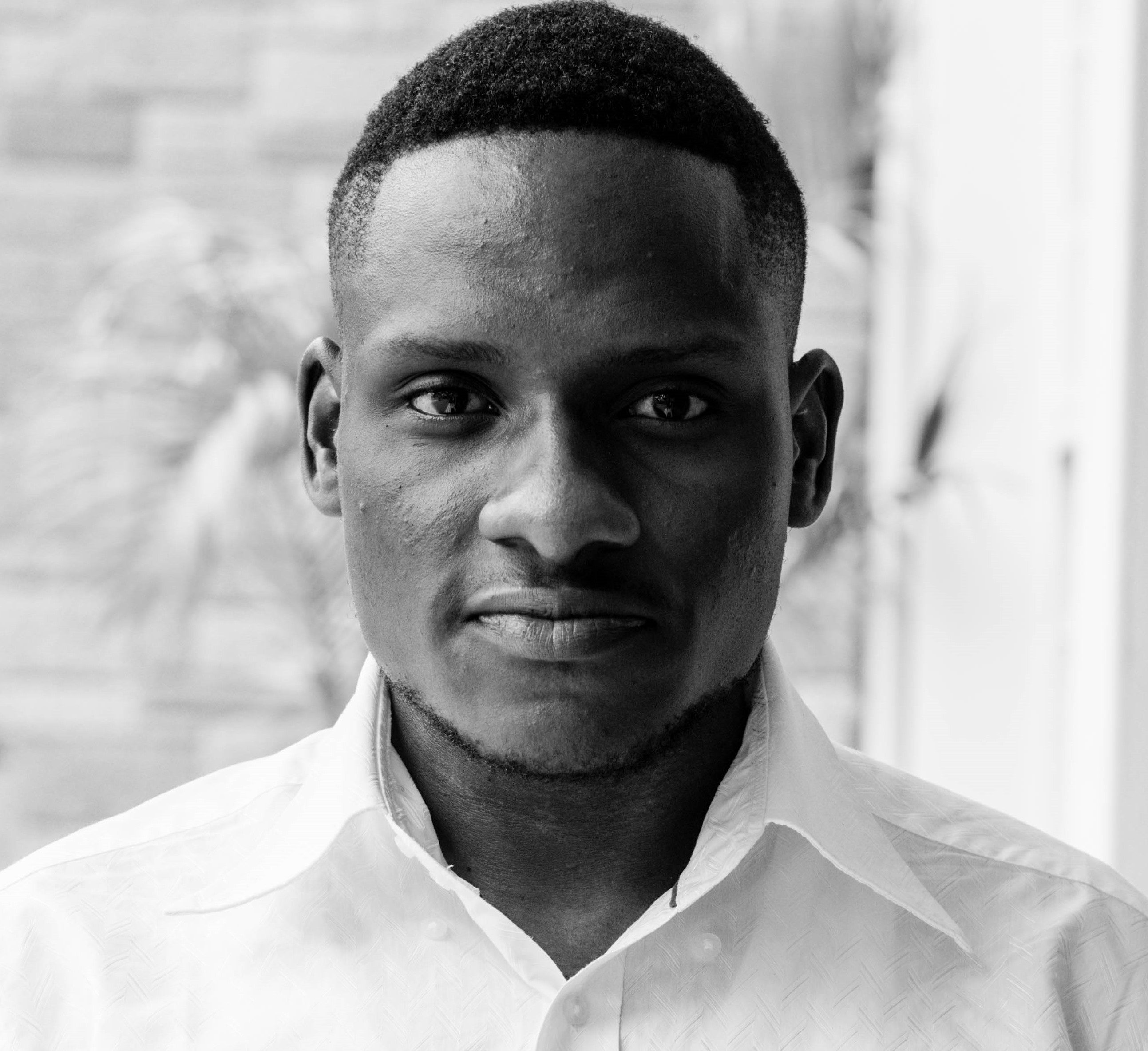 Stephen is a versatile and enthusiastic content writer with a passion for writing. He has over 8 years of experience in the field of writing. He strives to transform businesses and lives through his writing, and enjoys every minute of it.