With the increasing number of Verizon users, Verizon has become one of the most popular carriers. The software is doing a great job of providing top-quality features like text messages, voice, phone, and internet. All these features make Verizon successful.
Verizon always comes up with features, and one such popular feature is the cloud app. However, several Verizon users say that the Verizon cloud app not working. So, here we have prepared a list of problems and their fixtures to avoid such issues.
Black screen or white screen while opening Verizon cloud app
It is one of the common problems that several Verizon users are facing. Generally, when Verizon users launch the Verizon cloud app, they encounter a black or blank screen, and then the app crashes suddenly. It may lead you to think that the Verizon cloud app not working. Some of the ways to fix this problem are:
Most of the time, the issue is triggered by a temporary loading error. You need to open the recent applications menu and close the Verizon cloud app from the list. Then, try reopening Verizon and see if the problem persists.
You can also hard-reboot your device by pressing and holding down the power and home button for 10 seconds. Then, release the button and press the power button until the screen lights up. Now, open the Verizon cloud app again and check if it is working fine.
Finally, try uninstalling and then reinstalling the app. And then check if the issue is still there. And in case if this step does not help, try installing an older version of the Verizon cloud app and check if the problem persists.
Verizon cloud app fails to load or work correctly (server error/ loading error/ ping problem/ connection error/ screen freeze)
There are a few instances that may trigger the loading issue of the Verizon Cloud app:
The problem may be because of the Verizon cloud issues. In short, it may be that Verizon cloud is down, and this is triggering the loading issue. In that case, try after a few minutes or hours.
Your mobile data or Wi-Fi also may not work correctly. In that case, check the data connection. If your 4G is not working, fix it immediately.
Many users use the Verizon cloud app simultaneously, triggering the problem. So, it is better to wait for a couple of minutes.
Verizon cloud app login issue or other account-related problems
If you are having issues related to your account or log in, follow the given below steps:
It might be the Verizon cloud app server is down. It might be causing the problem. So, try logging in after some time.
Check if your data connection or Wi-Fi is working correctly.
Check that the credentials you are inputting are proper. You can never log in by using the wrong credential.
If you use 3rd party social networks like Twitter, Google, or Facebook for logging in, check whether they are working correctly.
Your account might be deactivated or banned for activities. In that case, read the error messages.
Verizon cloud app installation problems
If you think that you are having a problem while installing the Verizon cloud app, perform the following hacks:
First, check your Wi-Fi or internet connection.
Next, check the storage space of your device. With insufficient space, you cannot install the Verizon Cloud app.
Finally, verify that the Verizon Cloud app you installed is compatible with your current android version.
Verizon cloud app is not correctly updating
If you are facing a problem while updating your Verizon cloud app, follow the given below steps:
Check if your Wi-Fi or mobile data connection is working correctly. Low speed or lack of data can be the potential reason preventing you from updating the Verizon cloud app.
Check if your mobile phone has sufficient storage space. If your device lacks storage space, your Verizon cloud app will fail to update.
Video or audio loading problem with Verizon cloud app
If you are encountering issues with video or audio, follow the following steps:
In case of an audio problem, check your phone's volume and see if there is an audio issue. Use headphones to find out whether the issue is with your device or your Verizon cloud app.
Check your Wi-Fi connectivity or internet speed if the video fails to load.
Verizon cloud app notification problem
If you see that you are not getting notifications from the Verizon cloud app, go through the following steps:
Go to "Apps." Then, click on "Verizon cloud," and then tap on "Notifications," and check if it is enabled or not. If it is disabled, enable it.
If you are not getting notification alert sound, check whether you have muted the notification sound of the Verizon cloud app accidentally or not.
Deposited money in Verizon cloud app, but the money is not added
It often takes some for the Verizon cloud app developer or company to process the payment before crediting it to your account. There is nothing to worry about it, as it may take 24-48 hours for the money to reflect in your account.
So, wait patiently until then. And still, if the money is not added, get in touch with Verizon itself.
Withdrew money from Verizon Cloud, but you did not get into your account?
If you see that after withdrawing the money from the Verizon cloud app, the money is not credited into your account, open the Verizon Cloud app, and see the withdrawal status.
If you see that the withdrawal has been processed successfully, but you did not yet receive the money, contact Verizon as soon as possible.
Verizon Cloud backup failed
Verizon cloud backup often fails for multiple reasons. Frequently, users complain that Verizon cloud contacts backup failed. It is because you are making use of an old Verizon cloud app. Your Verizon Cloud might also have insufficient space, poor network connection, any technical problems triggered by the user network, or any error that might have occurred with the Verizon cloud itself. To fix the problem, try following the given below steps:
Clear the Verizon cloud app data and cache.
Uninstall the present version of the Verizon cloud app, and then reinstall the latest version of the app. If you are failing to update the latest app, try updating your Google Play Store in the first place.
Restart your device and then disconnect from the network before reconnecting it after some time.
Log out of your account and revisit the Verizon cloud app to re-add your account.
Conclusion
The Verizon Cloud app is highly used nowadays. But when it fails to work correctly, it can become frustrating. However, the steps mentioned above are most likely to fix the poor functionality of your Verizon cloud app. But in case if it is not solved, get in touch with Verizon customer support. They are always there to solve your problems.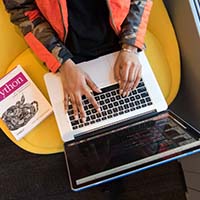 Nancy is a journalist with passion for technology. In her 12 years of experience, she has crafted some of the most detailed pieces that describe the importance, benefits, and progress happening in the technology world.