Verizon is one of the most noteworthy networks, which come with its perks and setbacks. Upon its activation on your smartphone, you get introduced to a large pool of features. You can now also know how you read text messages from another phone using your Verizon account. But using some advanced features can be a bit tricky for you if you do not know how to utilize them properly.
Also, if you don't know how to disable those features, then it can be troublesome for you. One of such features is 'read report will be sent' that you need to know about when it comes to using Verizon. Here is what you need to know about it.
What is meant by 'Read report will be sent?'
What does read report will be sent mean? Read report is a kind of useful feature that one will get on the Verizon Messaging application. It further lets the sender know if the messages have been received by the recipient or not. It works quite in a similar manner to the other applications like WhatsApp or iMessage applications.
The text, 'read report will be sent' will keep popping up on your screen as someone sends you a textual message, which turns out to be a bit annoying. However, fixing this can easily solve your problem.
When will this pop-up appear?
This pop-up appears with the message saying, read report will be sent, whenever a person sends you a message who is also staying in the same network.  This feature is simply a good one as it lets you know wherever someone is reading your message. You can stay guaranteed about the fact that the person from the other end is aware of your message even if there is not any acknowledgment from their side.
At the same time, this pop-up is very helpful as it will make you aware of whether the person to whom you are messaging is willing to reply to you or not. It will further help you to manage your conversation quite effectively. So, apart from knowing how to sync your messages on a temporary background, you must know all about the read report feature.
How do you cease sending your read reports?
As you now already know what does read report will be sent mean, you might need to know further about it. Well, the 'Read report will be sent' can appear as a violation of privacy to you if you do not want your senders to be aware of the fact that you have already read their text.
Well, the application delivers you an option that lets you pick whether you intend to send these read receipts to people or not.
For your convenience, you can easily toggle up the switch with one click.  It will further enable or disable the particular feature for you.
How do you turn off your Verizon Read report?
Well, in case you do not want your sneakers to know that you have read their messages, then you can simply turn off this feature. Here is how do you do it step by step:
Step 1: First of all, you will need to open your Verizon Message App.
Step 2: Secondly, you have to tap on the hamburger icon from the upper left area of your app.
Step 3: After that, you will need to tap on "Settings." 
Step 4:  Then, simply tap on the conversation and turn off your toggle switch beside the "Send Read Receipts."
Step 5: Finally, restart your app.
When might you not receive a read report from a particular number?
In case you cannot receive read reports from a particular number while it works well on another number, then it means they have already constrained their read report.
However, in such cases, you cannot do anything. Also, you won't be receiving any read reports unless your senders want you to get them. Indeed, it can be quite annoying at times, but there is nothing you can do to fix it.
What if it happens on the receiver's end?
Well, if you are willing to watch the same scenario on the receiver's side about Verizon messages read receipt, then it can be a little bit of a messed-up thing for you.  Every time a sender who has their respective read reports turned on sends you a text, and you have kept yours turned off, you will receive a pop-up message on your device's screen," Confirm read report will be sent."
Well, it can be a bit of a hassle, and there is nothing much that you can actually do to fix it. However, blocking the read reports from your app can be a solution. However, it may not work sometimes.
How do you fix this problem?
Well, nothing to worry about in case you are facing the problem every time, as you can fix it quite easily. To fix this problem, you can humbly tell your sender to turn off their request to send out read receipts further, particularly for your number.
On the other hand, you can also toggle on and off your control button to read reports on your existing application. It can essentially solve your problem.
After that, you will need to ensure that you are restarting your app after toggling, which will help you kick off such annoying pop-ups while you text or do anything else on your phone.
Reach out to the customer care service if needed
In case you have tried all the above-mentioned tricks and still are not getting your problem solved, then you can get help from their customer care. In case the pop-up is showing up repeatedly and you are unable to fix it, then you can call their customer care.  Their customer care is very sound and active in resolving the problems. They will help you with solving your problems quite easily.
Conclusion
Well, it is daunting to get notified with a continuous pop-up that can ruin your other tasks or conversations. Verizon has its one share of bells and whistles that you cannot ignore. However, all you need to do is, make sure you are either turning your feature off or asking your senders to do so to avoid such problems. It will help you further to stay hassle-free while working with your phone.
So, following up on the above-mentioned steps can help you easily. However, to further resolve any other problems with Verizon messages read receipt, you can troubleshoot the app anytime.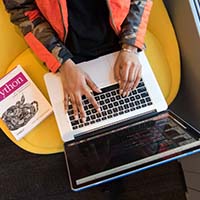 Nancy is a journalist with passion for technology. In her 12 years of experience, she has crafted some of the most detailed pieces that describe the importance, benefits, and progress happening in the technology world.