Vizio is slowly becoming one of the most popular brands in the Smart TV scene. It is known for its value for money smart TVs without compromising the quality or features. The budget smart Tv segment is getting competitive with brands like Vizio and Sharp trying to provide more at a lower price tag. The Vizio 32 inch smart TV 1080p, especially the E-series is one of the best that fits this segment most accurately.
If you are in search for a secondary TV for your Kitchen or just for your kids to enjoy gaming or their own content. This TV might be ideal for its compact size and great value for the buck you will spend. As most people prefer a large TV for their Living room, these compact smart TVs only make sense if they are offered at a competitive price.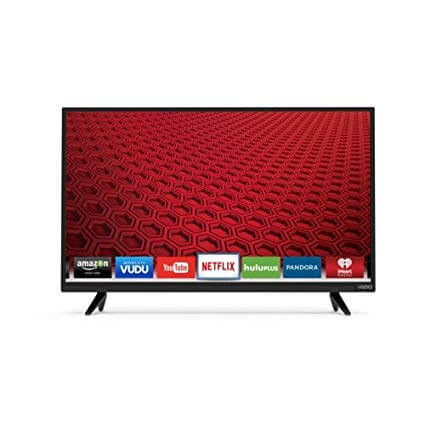 The Vizio E32-C1 smart TV is among the top-selling smart TVs for some good reasons. It is cheap on the pocket but very well balanced with quality and features. It is one of the few smart TVs in this price range that comes with a 1080p display at 120Hz. In most smart TVs in the budget segment, you will find a 720p panel. It already makes it a great deal to have a Full HD display smart TV at this price.
It comes with wireless connectivity and apps in-built to allow you to connect to your home network and get access to thousands of contents. You can watch your favorite movie or shows from popular streaming services directly on your TV without any other device or wires. It connects to your home network instantly.
The build quality is also decent, taking into consideration the lower price tag. It is not very thin, but that is not what is expected from a budget TV. The display, however, is very capable of high-quality video quality with the 1080p panel. Additionally, the refresh rate makes it great for fast-paced motions or gaming.
What are the Pros and Cons
The most popular smart online does have a long list of pros and some cons that might be considered while you are deciding on purchasing a compact smart TV. This smart TV in no way skimps on the features on display quality with a good quality 1080p display. It has a Full HD panel which is not found readily on most budget range smart TV.
Let us first look at the pros that make it a crowd favorite.
Great Display
At this budget, Vizio provides a Full HD 1080p display with a 120Hz refresh rate and an additional simulated 240 Hz clear action. This makes fast-paced movement and actions look smooth without any distortion or frame tear. The panel has a good color reproduction with ample depths and contrast levels. Full HD panel makes a great difference if you are someone who streams a lot of HD Content over the internet.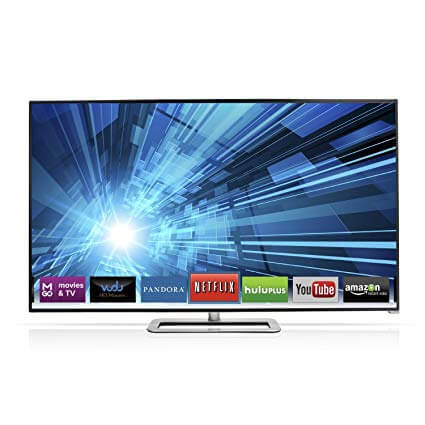 Being native 1080p the display provide a lot more details compared to a 720p panel that most budget smart TVs comes with.The color reproduction is impressive considering the price of the Smart TV. It has decent contrast levels and retains a lot of details when streaming content online or using other input devices to watch content on the TV.
The Smart TV looks vibrant out of the box, but you can customize the color tones and picture with the in-built controls. It offers a wide range of opportunity for users to customize the picture quality to their liking and make the best use of the Full HD display panel. As the display is 120Hz with a simulated 240Hz sports and action movies look far better compared to other TVs in this price range.
Contrast levels on this TV are good, it is nothing spectacular reminding you of the price tag, it seems quite good in a real sense. The blacks are satisfactory deep which can be enhanced using the settings for deeper blacks. You must not compare this display with OLED and other higher priced FHD+ displays. For the price you pay, this display is great in my opinion. It looks vibrant with good color and balanced contrast levels.
Multiple Connectivity Option
The Vizio E32-C1 comes with a lot of connectivity options. You get wireless connectivity built-in with the option to use an ethernet connection if that is the route you like. It also has 2 HDMI ports for your game consoles and other devices to connect directly to your TV. The built-in WiFi makes it a lot easier to access online contents and play directly to the TV without the need for any additional device or wired connections.
The signal reception is strong on this smart TV and thus less speed drop which makes it ideal for online content streaming. A good signal reception also means that you can stream Full HD quality contents on the Full HD Display to get the best viewing experience.  A 30-40 ft maximum distance from the source of your Wireless network provide a stable connection. Out of the box, the TV may take a little time to connect to the WiFi and get it running. It might also take some time to update the UI to the latest version before you can start using your TV.
Apart from the Wireless connectivity the HDMI ports which are both HDMI 1.4 that offers you the freedom to connect a range of devices to the TV directly using the HDMI ports at the back. It also has sound output. A composite input is also present at the back with the antenna input and USB port. All the connectivity options make it a versatile choice with lots of options to expand and make the setup closer to your taste.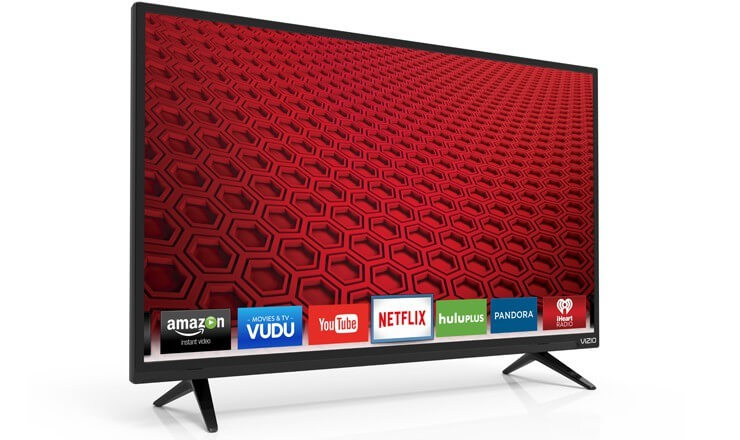 Built-in Smart
You do not require an additional device like a Roku or Amazon Firestick to get the smart TV features on your TV. Out of the box just connect to a network and you can have all the contents from your favorite shows or movies directly streaming on your Television over the internet. The UI on this smart TV has tons of native apps and content streaming services built-in making it easier to just plug and play.
The apps collection on this TV is impressive considering the price point. Most smart TVs in this range either have very limited apps or only 3-4 apps. On the flip side, the UI on this television offers tons of apps like Netflix, Hulu, Amazon, Vudu and all the others which you can think of. The native collection is impressive offering a lot of options for users to find their favorite piece of content from around the web.
It also offers music streaming options like the iHeartRadio and Spotify directly on your television. If you are someone who enjoys a lot of Spotify music, this smart television has got your covered with native support for your favorite music streaming service. The content streaming option on this smart TV is endless considering the support for most of the online streaming apps natively on the smart TV.
On the flip side, we sometimes found the menu too overwhelming for new users who are trying their way through the smart TV navigation menu. With the tons and tons of apps on the list, it might sometime get cluttered and difficult to find the one that you want at the moment. However, a few days with the TV will ease you into the world of smart apps and makes it comfortable navigating around the menu. The sheer number of apps sometimes slows down the menu and make it feel laggy to navigate around the menu on the smart TV.
Design and Remote
The design is simple yet suits the modern minimalistic approach with both options for a wall mount or table top. It is made of plastic which makes it super light and compact. The body is a little thick when you compare it with more advanced and higher price paper thin OLEDs. It may not look skeel and thin hanging from your wall, but surely has the functionality to overlook the thicker body of the smart TV.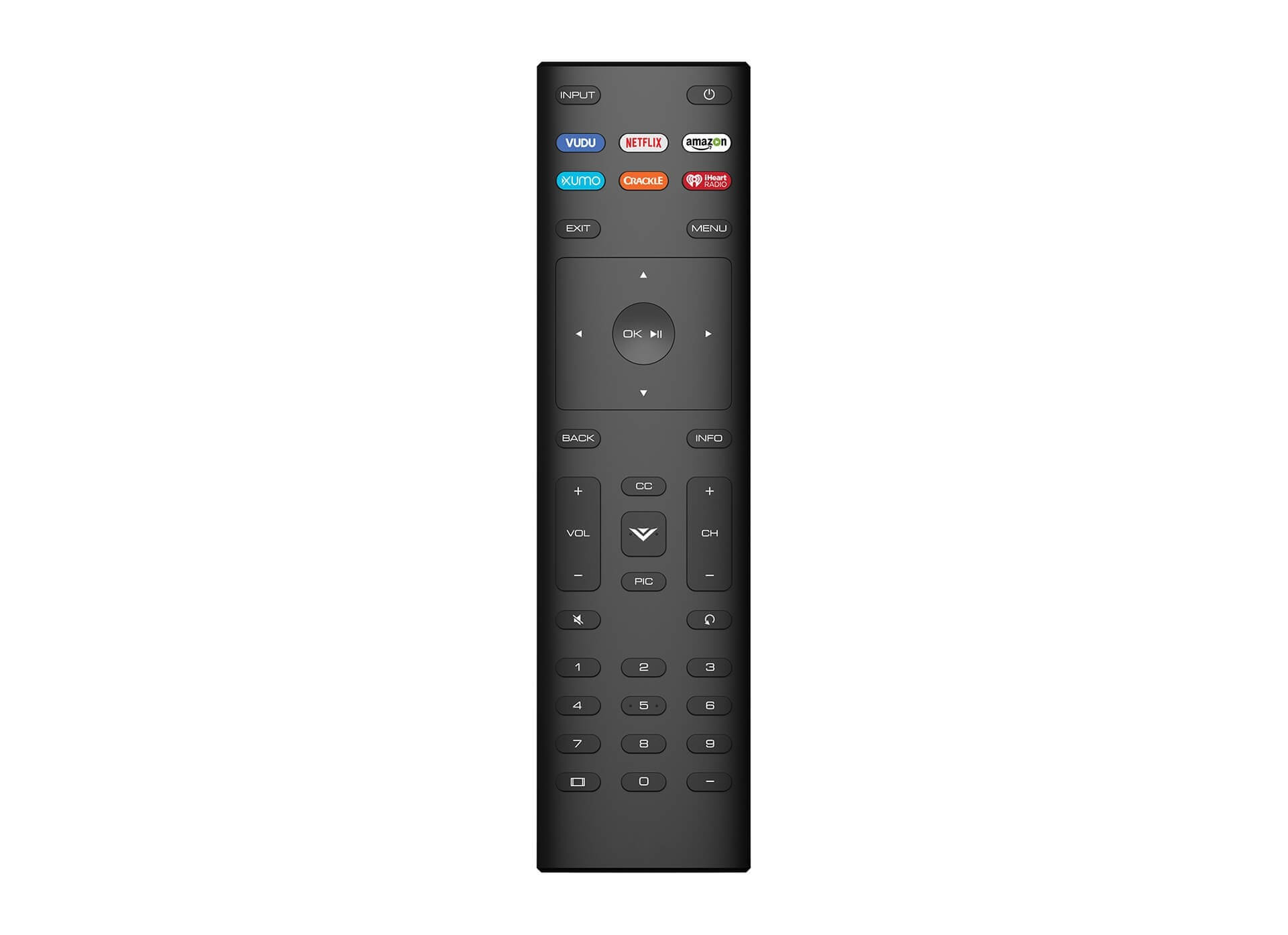 It comes with two triangular shaped base stands out of the box to allow you to set the television up as soon as you get it on your table. It can also be wall mounted but the mount is not provided in the box. You can pick one for cheap online for less than 30 bucks. The light weight makes it a great choice for wall mounting.
The remote control on this TV has a wide range of option that allows you to choose your favorite streaming services. It has quick access buttons for Netflix, Amazon, and iHeartRadio to get to your favorite content quick and easy with one click. The navigating buttons are also decent which allows for easy navigation across the menu. Although, the number of apps on the UI does make it slower and harder to navigate using the remote. It has a decent response time for the buttons.
Final Verdict on the Vizio E32-C1
The Vizio E32-C1 is an excellent value for money smart TV that ticks all the right boxes for a modern smart TV. It comes with wireless connectivity option for all your online contents directly on the television screen without the clutter of wires. The native apps collection on this TV is impressive and make it worth for users with a lot of choices and requirement. It has something for everyone to find their favorite online content directly on their TV screen.
Not only it has a feature-rich smart TV menu but also has an impressive display to go along with the content watching experience. The panel is a Full HD 1080p panel with 120Hz refresh rate alongside additionally simulated 240Hz for ultra smooth fast paced actions and movement. It also makes it an ideal option for gaming for its high refresh rate. You can enjoy lag-free smooth gameplay while playing on your console.
The physical connectivity option on this smart TV allows you to connect a number of the device directly to the TV. You can connect your gaming console and enjoy smooth gameplay with the high refresh rate Full HD monitor. It makes for a great value for money option for users to use the television as their secondary TV. The compact size coupled with 1080p panel makes for a great viewing experience.  
Overall this is a great value for money option for its display, versatility, and range of smart online content apps. It has one of the best-looking displays with tons of smart apps to allow for a smarter TV watching experience. The 1080p panels allow for far more details in the videos alongside good colors and decent contrast levels. For the price, this is a great option for a great smart TV experience.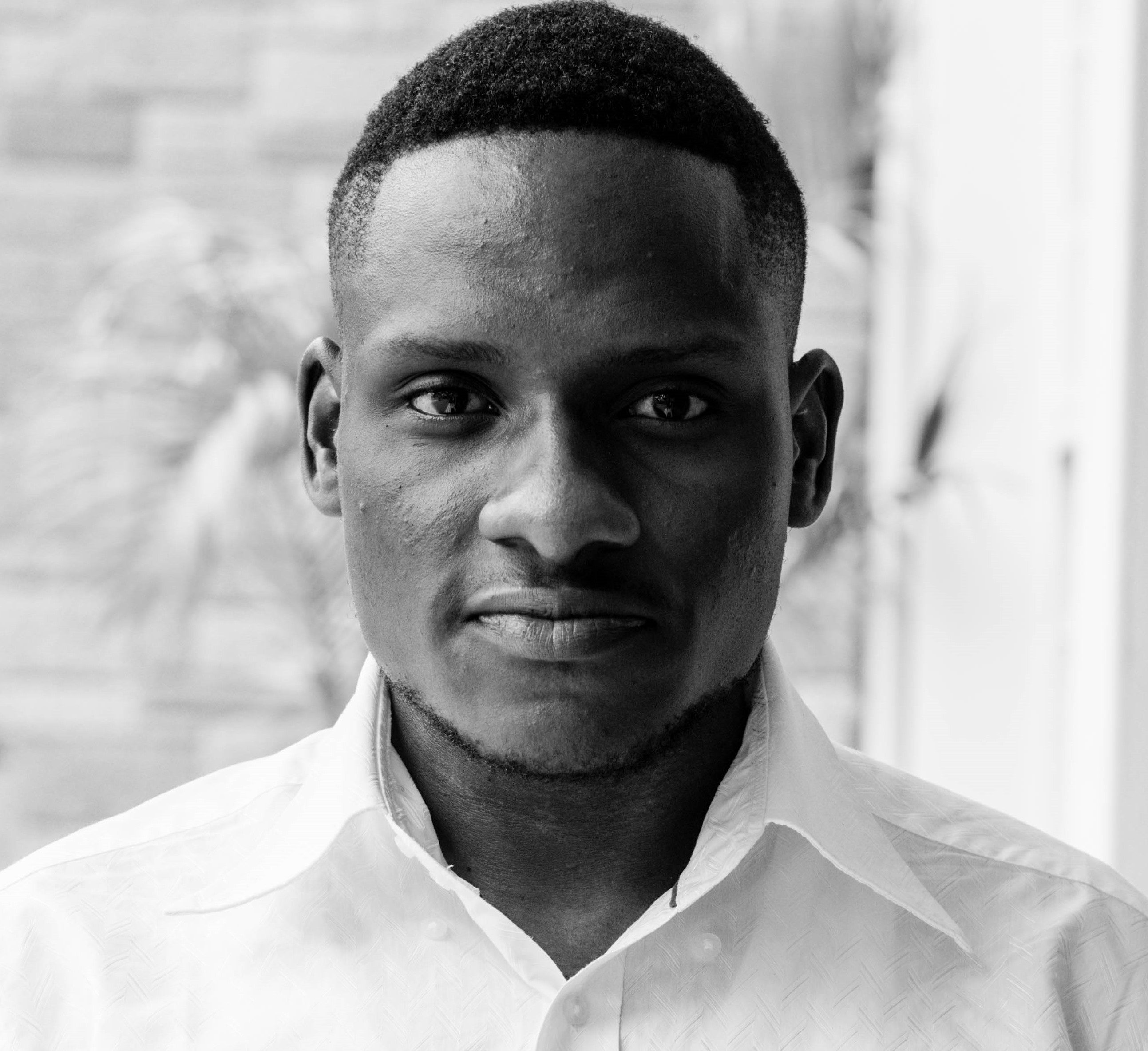 Stephen is a versatile and enthusiastic content writer with a passion for writing. He has over 8 years of experience in the field of writing. He strives to transform businesses and lives through his writing, and enjoys every minute of it.