Verizon rose to prominence with its effective networking solutions and high-speed connectivity across the US. In addition, the company is constantly rolling out several features to enhance users' overall experience on the network.
One of the essential features of Verizon phones is network preference. The preferred network type lets you connect to the best network, especially when traveling. Proper network connectivity is essential while traveling and helps you keep in touch with your loved ones seamlessly.
Here, we will discuss everything you need to learn about the preferred network type Verizon offers and some handy tips to get better coverage. So, let's dive in!
What is the Preferred Network Type on Verizon?
The preferred network type on Verizon gives you three options to choose the one that best suits your requirements. The network type lets you connect effortlessly to get the highest coverage and keeps you connected wherever you go.
Below, we have discussed the three network types in detail to understand better what you should use and where. Check them out!
Verizon 4G LTE on Preferred Network
The most common network type is 4G LTE, which your device automatically gets connected to when you are in the country. It is also the preferred network type to use in places where the connectivity is unstable or varies a lot.
Verizon 4G LTE offers better speed and lets you connect smoothly in areas with low coverage. In addition, it offers high-speed data access and reliable signal strength to keep you connected. All Verizon devices come equipped with this setting, so you can switch to it as and when you prefer.
Verizon 5G LTE

Verizon 5G LTE has a high-frequency bandwidth that lets you connect to networks faster and reduces any or all interruptions. It can also handle heavy traffic and transfer data faster than other network types.
If you want to make high-quality video calls and stream movies online, 5G LTE is the best Verizon preferred network. In addition, most cities have 5G access, so it is easier to switch to this one for an enhanced superfast network experience.
Verizon Global
If you are looking for the best of the best in performance and service, Verizon Global is the right choice for you. It lets you connect to every modern network available in the region so that you can have hassle-free connectivity wherever you are.
Whenever you are in a low coverage area, the global network automatically connects to the best network available. Therefore, it is the best option when traveling to a remote place where network connectivity is wonky.
Verizon CDMA
If you have limited options and your area has conflicting networks, going for the CDMA network will give you a decent signal strength. However, it uses 3G connectivity, which is not as advanced as other network options. Moreover, it does not support high-quality voice calls, and hence it is only suitable for dire situations where you have no other option but to choose CDMA.
You must note that Verizon will discontinue 3G CDMA on December 31st, 2022. So, if you haven't switched to any other network yet, you should do so before the deadline to continue using the Verizon network.
What Network Mode Should My Verizon Phone Be On?
As we have seen all the available options in the above section, choosing the preferred network on Verizon depends on your situation. Although 5G offers the best available network that lets you connect seamlessly and offers the highest quality, it may not work in places where the network has not yet advanced. The 5G network is still expanding and is currently present in certain areas.
You can go for any of the above options by determining your present situation. For example, if you are in a region where 5G connectivity is available, it is the preferred network type Verizon offers. You can also go for Verizon Global and 4G LTE if 5G is not an option for you. These are the best network options on Verizon at present.
Going for GSM instead of CDMA also enhances the network quality. Also, as Verizon will soon discontinue CDMA, you should consider switching your network at the earliest.
How to Change the Preferred Network Type?
Changing your preferred network type on Verizon phones is pretty easy and convenient. One of the best things is that you do not have to change your preferred network manually; it automatically does that.
But if you face any issues with your preferred network, you can change the settings using the following steps.
Step 1: Open your phone's Settings.
Step 2: Click "Network and Internet."
Step 3: Tap "Mobile Network."
Step 4: Choose your Preferred Network Type.
Step 5: Once you choose your network type, tap "Save."
You don't have to manually change the preferred network type, even if traveling internationally.
How to Switch to Another Network on Verizon Phones While Travelling Internationally?
If you are going to another country and wish to change your current network, you must ensure that your device is unlocked. You can cut any sim card into Nano or Micro sim and use it on an unlocked device. However, a locked device only lets certain network carriers connect to the device. They have a set frequency band that does not allow other sim cards to operate on the locked device.
You can get your device unlocked by contacting your network provider. Alternatively, you can use another unlocked device to operate while traveling internationally. If you wish to use your device on the Verizon network, you must ensure it is compatible with the network. You can visit your nearest Verizon store to get your device checked. Depending on your device, they will also provide you with the best available plan.
To check whether your device is unlocked or not, you can dial *#06#, which will show you the IMEI number of your device. In addition, you can use the IMEI number on imei.info to check whether your device is unlocked.
Conclusion
Verizon offers some of the best network connectivity in the US, and you can choose from a range of network types depending on your situation and area. Verizon offers the widest network coverage and lets you connect with your loved ones in areas where the signal strength is quite low.
Choosing amongst the preferred network type Verizon lets you connect to the world without trouble. Whether traveling internationally or going on a trek in a remote area, Verizon has the perfect choice for you. You can go for Global, 4G LTE, 5G, or 3G as per requirement; Verizon ensures that you never lose connectivity.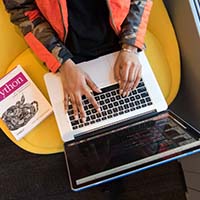 Nancy is a journalist with passion for technology. In her 12 years of experience, she has crafted some of the most detailed pieces that describe the importance, benefits, and progress happening in the technology world.